In 2020, I shared a list of the highest-valued startups in the world - they're colloquially called Unicorns.
A unicorn startup is a private company with a valuation of over $1 billion. When I last wrote about unicorns, there were over 400. Now there are over 800 unicorns. Variants include a decacorn, valued at over $10 billion, and, soon, a hectocorn, valued at over $100 billion. 
With that, let's see how they changed in 2021. Click the image to see it in full size.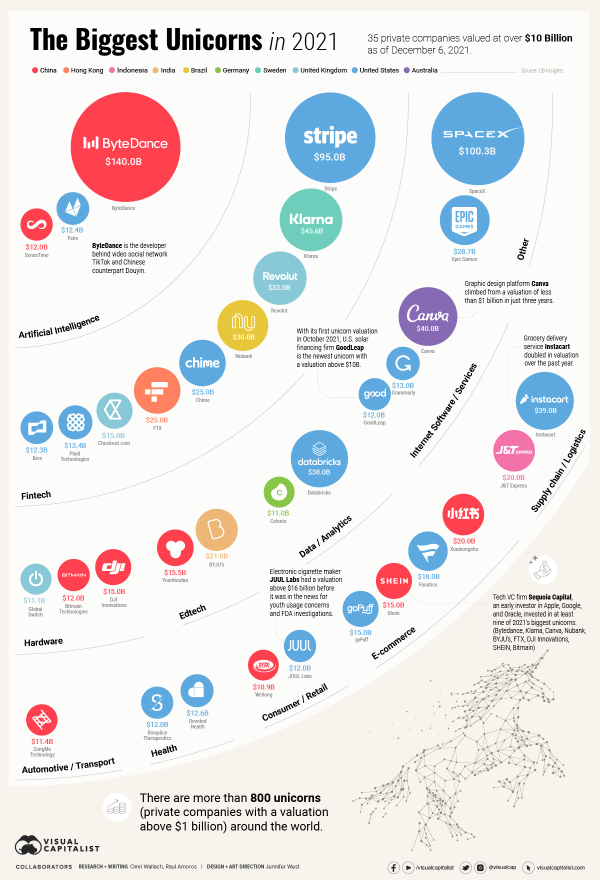 via visual capitalist
There has been a surprising amount of change since last year. Perhaps, not as surprising, AirBnB got kicked off the list. 
Another significant shift occurred in the distribution of unicorns by country. In 2020, China and the U.S. both had four names on the list - though China had the two biggest. China still has the biggest Unicorn - Bytedance - now worth double what it was, but only has one name on the list. The U.S. now has five names on the list with SpaceX, Stripe, Instacart, Databricks, and Epic Games. 
For a few more interesting facts about the list: 
77% of unicorns valued at over $10B are tech-related; the most unicorns are in Fintech
Many of the "non-tech" companies are really tech companies at their core
The U.S. and China accounted for over 70% of the top 35 startups.
Interesting stuff. Any companies you think will breakthrough in 2022?