We only have a limited time on this earth - and a lot of it is taken by frivolous activities. 
How much time do you think the average millennial spends on their phones ... or a baby-boomer sits in front of the TV?
The answer is a lot.
via dailyinfographic
Nine years in front of entertainment devices - another 10.5 years spent working.  You get the idea.
If you have goals you want to accomplish, aspirational travel, and lifestyle plans - this really puts the idea of finding and living your passion in perspective. 
Do you have the time to waste it?
VisualCapitalist put together a chart projecting longevity based on 2020 mortality rates.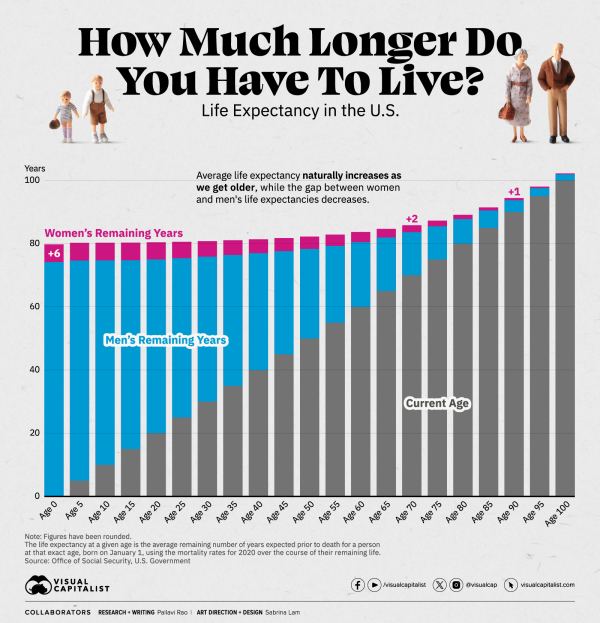 via visualcapitalist
 
I turned 60 this July, so I only have 20 years left, according to this calculator.   I expect more!
There are some interesting statistical facts in this; for example, an average American baby boy can expect to live until 74 ... but if that boy turns 21, his life expectancy jumps to over 75. 
While these numbers seem pretty high, there are two things to consider. First, COVID heavily reduced these numbers because mortality rates went up. That likely won't continue (though it will likely continue to affect your insurance premiums and pension benefits). 
Also, remember that these numbers are based on 2020 averages, which likely differ from you (specifically considering your race, income, location, etc.). These numbers also don't take into account expected medical and technology advances, etc. 
Finally, I think Purpose is one of the most important catalysts of longevity. People often die when they retire ... not because they're done working, but because they're done striving. 
If you're not growing, you're dying!