Are you trying to lead a healthier lifestyle?  This data visualization can help you filter out the marketing hype to help you find the vitamins, minerals, and herbs that deliver tangible benefits ... versus those that serve only as a "Guaranteed Genuine Placebo".
Here is an interactive model of the most current research data.  It is interesting because of the health research itself ... and because models (like this) have far-reaching applications.  Click the image to play with the interactive version on InformationIsBeautiful.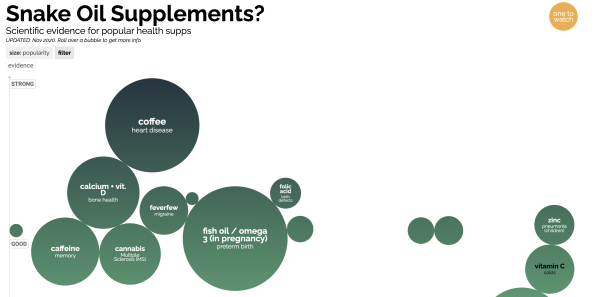 via InformationIsBeautiful
I was surprised to see how many of the supplements I take weren't high on the list.  I was also surprised to find a few effective supplements on the list that I don't take. 
Some of you have seen how many supplements I take a day.  I take so many pills that I split them up into morning, lunch, dinner, and bedtime.  Despite that, I always like finding what else might help. 
As a reminder, supplements are meant to support your health goals, and the secret to longevity is not going to be found without you also putting in the work yourself. 
Regardless, I appreciated this look at the performance data behind various supplements. 
Let me know if you find something you think is worth sharing.