Statista put together a list of the ten highest-valued unicorn startups in the world based on numbers from CBInsights. To see more information on these startups, click here. 
A unicorn startup is a private company with a valuation of over $1 billion. As of June 2020, there are more than 400 unicorns around the world. Variants include a decacorn, valued at over $10 billion, and, soon, a hectocorn, valued at over $100 billion.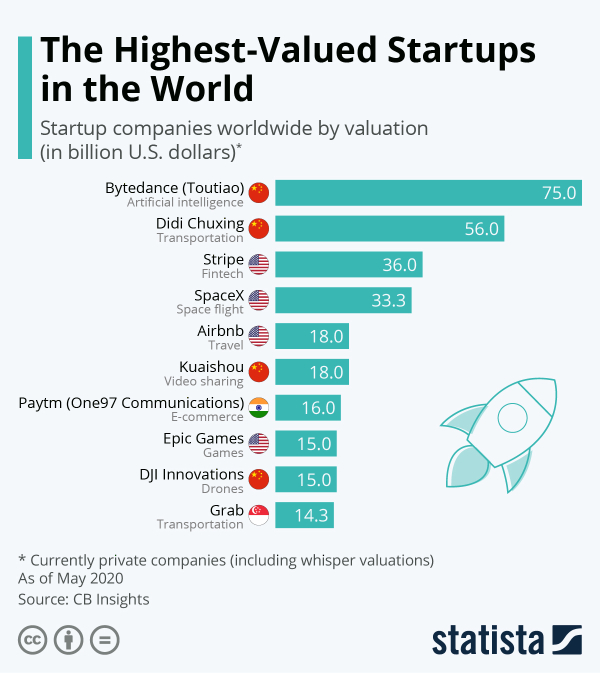 via Statista
China had the two highest-valued startups on the list.  Both the U.S. and China each have four companies on the list of the ten highest-valued startups. The U.S. companies are easily recognizable - Stripe, SpaceX, Airbnb, and Epic Games. The Chinese companies may have slipped under your radar (but they would probably be easily recognizable to you if you lived in China). 
According to CB Insights, there are more than 400 unicorn startups (companies valued at US$1 billion or more) in the world as of May 2020.  Meanwhile, 24 of the companies in the ranking were valued at US$10 billion or more. 
The top 10 list of decacorns also includes Indian e-commerce platform PayTM and Singaporean ride-hailing app Grab. Further down the list, UK data center provider Global Switch (rank 19), Indonesia's answer to WeChat, umbrella app Go-Jek (rank 20), Brazilian fintech provider Nubank (rank 21) and a second player from India, hotel startup Oyo (rank 22), make appearances.