When you ask children what they want to be, many likely say YouTuber, Influencer, or some other variant of that theme.
Influence is a complicated thing. From an abstract perspective, it's the ability to affect someone else's behavior. A high schooler can influence their classmates. As entrepreneurs, we can influence our employees, our industry, and more. You can have immense influence over a small number of people or a little bit of influence over many people - both still count as "influence."
But, in this case, many of the most popular influencers aren't famous for changing the world; they are celebrities or just famous for being famous.
Below is a chart of the top 50 "influencers" by social media platform.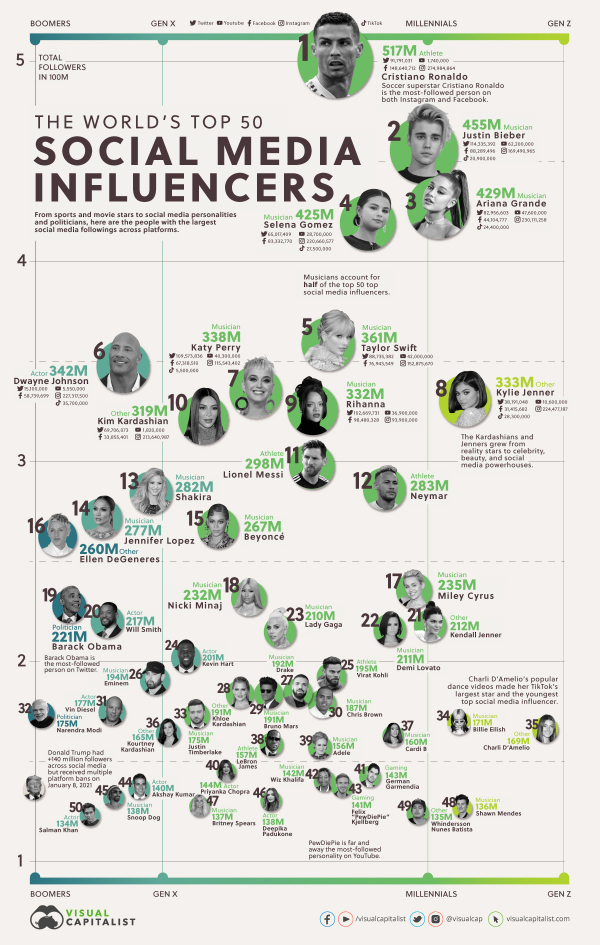 via visualcapitalist

In the digital age, it's worth acknowledging social reach as power. People with a large platform have the opportunity to exert enormous influence - and it's why you often see the spread of misinformation reach far, fast. 
It would be interesting to see how many of these people use their platforms to be a beacon to their followers (rather than a beacon to attract followers).
It would also be interesting to see how much (or little) engagement many of these "influencers" actually have with their followers (and how that level of engagement relates to the growth or decay of their followings). 
While I assume that the readers of this post aren't in the business of being "Influencers,"  Most of us recognize the value of influence – and getting more of it.
As a result, it is probably worth thinking about influence as an asset.  And now is time to think strategically about how to grow and use that asset better.