I've shared several links about SPACs, in the past few months, as they have gotten increasingly popular and relevant.
SPAC stands for Special Purpose Acquisition Company. A SPAC is a company with no commercial operations, formed to raise capital through an IPO to acquire existing companies, technologies.
A typical IPO creates new public shares of a formerly private company while a SPAC merges a private shell company with an already existing public company. 
It's basically a backdoor way to turn a private company public overnight. Click here to see popular SPACs from 2020. 
They've been around for decades – but SPACs have been increasingly popular recently. Making that point, according to Bloomberg, SPAC dollars raised in 2020 beat the total from the previous 10 years combined.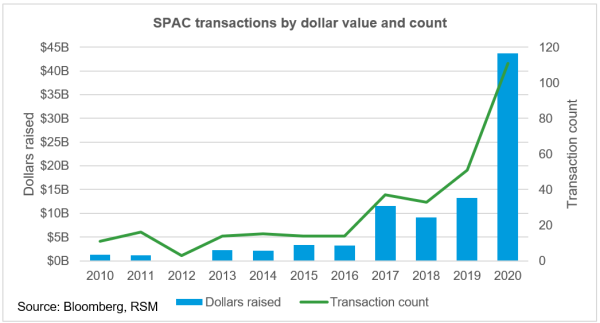 via RSM
SPACs are becoming popular to businesses because they're seen as a safer way to go public in a volatile environment. They're also becoming popular to investors because the stock value often jumps pre-acquisition.  Nevertheless, the reality is that the average SPAC underperforms the S&P 500 on any given timeframe.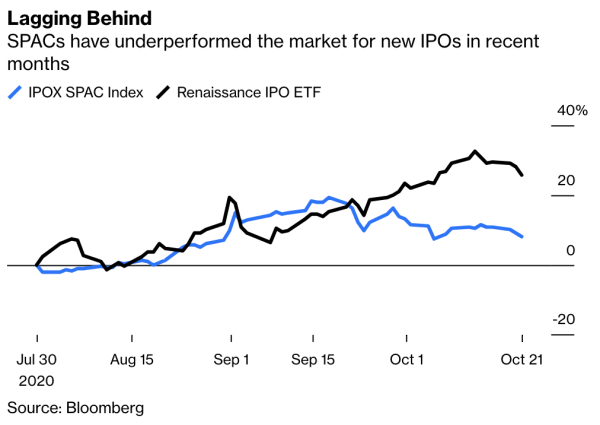 via Bloomberg
The reality is that most "buzz" products underperform the S&P – and most things that become too popular ultimately end up losing their edge. 
Barry Ritholtz put it well in his opinion piece:
The successful products we encounter every day are the result of initial failure. While positive outcomes are all around us, hidden from view is the iterative process of repeated failed attempts that lead to improvement. The world is filled with fantastic products from wildly successful companies, making it easy to overlook the many small gains and occasional big breakthroughs that helped them achieve this success.
For businesses looking for access to capital, SPACs are a legitimate option worth considering.  However, for investors looking for the next new alternative asset class to invest in, SPACs may not be what you are looking for in the longer term. 
What do you think?