Covid-19 rates are still rising in many places, and there's an unexpected consequence ...
Candle companies are getting much more negative reviews. Angry people everywhere seem to be reporting that the candles have no smell!  With Covid, perhaps they need to check if they've lost their sense of smell or taste (and whether they have a mild fever). 
Katie Petrova, on Twitter, did some research to check if there was really a correlation.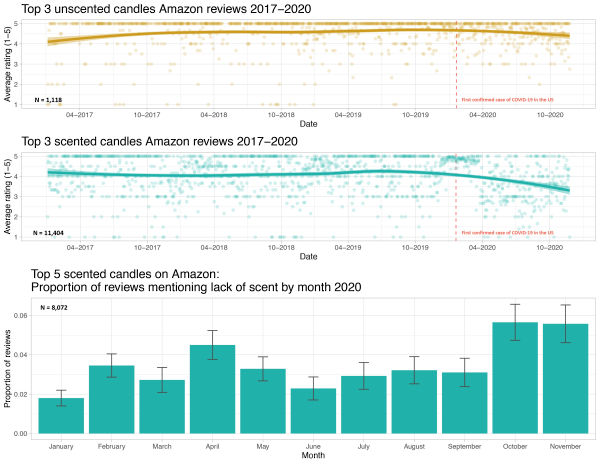 via Katie Petrova
And the results were as expected. In 2020, consumer ratings for scented candles declined much more than unscented candles, and there are spikes in reviews mentioning lack of scent during months with increased cases. 
Since the beginning of this year, the proportion of reviews mentioning lack of scent grew from < 2% in January to close to 6% in November.
That being said, unscented candle reviews are lowering too ... which makes you think about the confounding variables. Are sales simply increasing to the point where reviews (and thus negative reviews) are increasing? Is it a result of people being bored/frustrated at home?
I'd be curious to see how much candle (or other home scent improving products) purchases increased during 2020.