A couple of weeks ago, I talked about oil production.  This week, I want to look at the current energy landscape.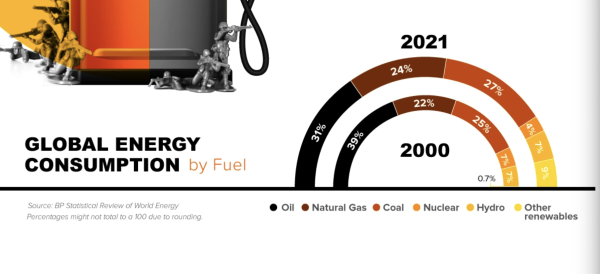 View the full infographic at visualcapitalist
Over the past several decades, there has been a massive shift in how we produce and consume energy.  This has been driven by the tech boom - as well as by climate awareness.
The practical realities of widespread tech adoption directly impact energy consumption.  For example, there are now over 7 billion people with smartphones.  As the population (and the number of gadgets and tech we use) grows, logically, so does our energy consumption.
Luckily, we're also getting better at powering them. 
On a different front, oil is still a meaningful and vital part of the energy ecosystem … but, now, it's being supplemented by multiple renewables.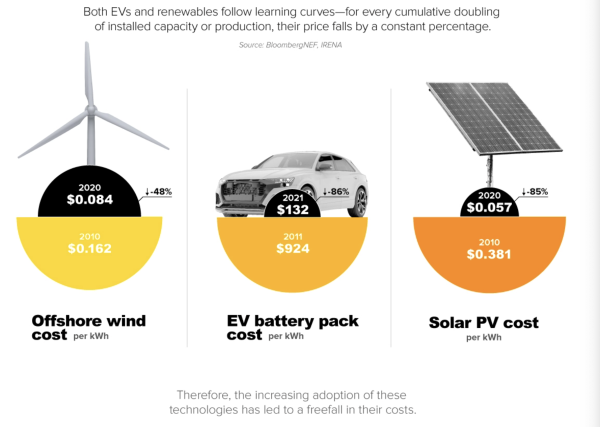 View the full infographic at visualcapitalist 
Over the last decade, investment in green technologies has helped the cost of renewable energies drop precipitously. 
That spurred a different set of products and use cases.  For example, we've seen the number of electric cars grow exponentially.  In 2011, there were approximately 70,000 EV units in the world.  Now there are around 16.5 million. 
This isn't a commentary on the environmental benefit of renewables; it is an observation about the direction energy is heading. 
And, just like with AI, despite being a space that's existed for a long time, it is still in the "early adoption" phase. 
Based on estimations, the IEA projects an 8x growth in EV by 2050.  This also means that we will use an increasing amount of batteries and rare metals.  Currently, China controls the supply chains and critical resource constraints. 
If our goal is to be energy independent, we have a long way to go ... Nonetheless, recognize that this creates massive business and investment opportunities. 
Onwards!