You could argue that we're in the middle of the first energy crisis of the 21st century.
While gas prices are finally on the way back down, the recent surge is driving inflation and has consumers thinking much more about where their oil comes from. 
When I last wrote about oil production, the shocking "secret" was that the largest importer of oil into the U.S. was Canada - and that most of our oil was produced within the U.S.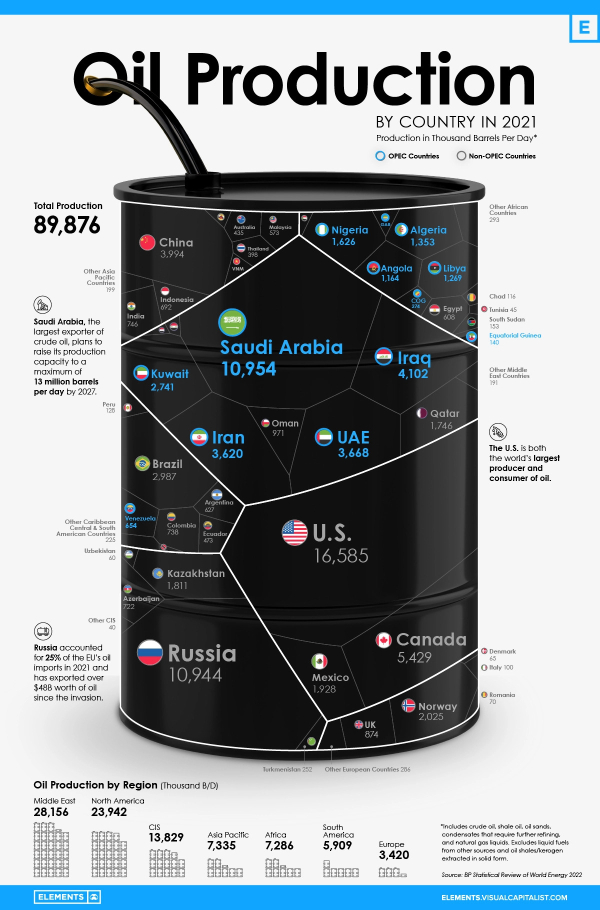 via visualcapitalist
While the U.S. is the largest producer of Oil, OPEC is the largest organization. OPEC accounts for 35% of total production, with Saudi Arabia accounting for a third of OPEC's output. 
Almost half of the world's oil production comes from The U.S., Saudi Arabia, and Russia. 
Also, despite being the world's largest oil producer, the U.S. is still a net importer of oil. 
Supply constraints on oil - as a result of sanctions on Russia - are creating a price increase with skyrocketing demand from mid-pandemic levels. Combine that with OPEC refusing to increase production to meet demand, and you have an energy shortage. 
The U.S. has already started releasing barrels from its strategic reserves, and we've seen gas prices go down as a result, but it remains to be seen if our efforts will be enough to curb the shortage. 
What else do you think we should be doing?