I love football.  As such, it is fun for me to watch the games.  But I also like the business of the game as well. 
Over time, I've become a fan of the league ... and how deliberate they are about building teams and developing players.
Last week, I got to give a series of talks to a high-level entrepreneur group called Breakthrough Mastermind.  Some of the other speakers included NFL Hall of Famer Mike Singletary and a starter on the league-leading Dallas Cowboys Defense, Osa Odighizuwa.  Here is a picture of us from the event.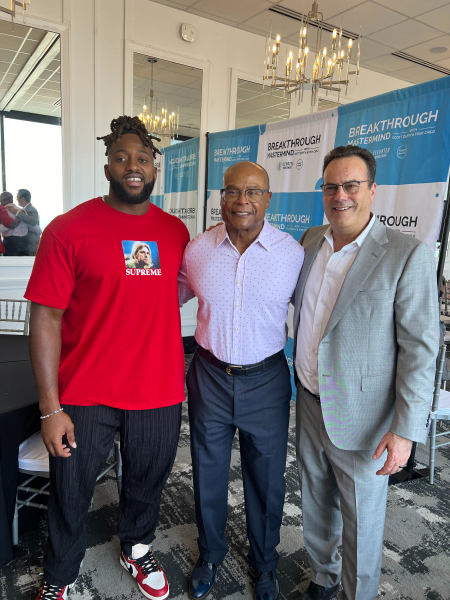 Let me know if you want a link to the actual presentations.  I talked about AI and how it frees you to be your best.  Osa spoke about what it takes to be a Pro, and Mike talked about teamwork and building teams.
It is Football Season.  And, if you know me, then you know I'm a Cowboys fan (despite being raised in Philly, with season tickets to the Eagles – and Boston, with season tickets to the Patriots).
So, the week one 40-0 victory over the NY Giants was fun to watch. 
It was even more fun after I saw some stats about this loss. 
According to ESPN Stats & Info:
The 40-0 win was the largest shutout victory in Dallas's history.

Dallas is the fifth team in NFL history to open their season with a 40-plus-point shutout on the road, and the first since the 1999 Steelers.

The Cowboys are the first team in NFL history to open the season with a 40-plus-point shutout of a team that made the playoffs the previous season.
But feeding my occasional need for Schadenfreude ... the stats get worse for the Giants. 
In this game, they lost 40-0, got sacked seven times, to the Dallas Cowboys zero, they also lost the turnover margin 3-0, and had their opening drive field goal attempt blocked (and then returned for a touchdown), and their QB, Daniel Jones, then threw a pick-six. 
Supposedly, no team has done that in a single season - let alone a single game. 
via The Athletic
See, math can be fun!
Week Two was similar for the Cowboys against the NY Jets.  My friend and lifelong Jets fan, Brian Kurtz, attended and wrote this well-thought-out blog post on the experience.
And for some additional contrast and dynamic tension ... ponder this!
Jerry Jones Is Going to Live Forever.
As if the Cowboy's experience wasn't enough to bring people in, Jerry has now immortalized himself as the mirror from Sleeping Beauty, excuse me, I mean as a virtual AI screen at AT&T Stadium. 
It's a truly interactive experience where you can ask Jerry questions, and get responses in his voice - from an AI trained on the real Jerry Jones. 
NEW at #ATTStadium: Meet Jerry Jones – An Interactive Experience. Ask @dallascowboys' Owner Jerry Jones questions and get his responses generated by AI technology for a unique, interactive experience.

Learn More ➡️ https://t.co/JZYtOdLgj1 pic.twitter.com/b6V9AbZ8wj

— AT&T Stadium (@ATTStadium) September 7, 2023
And this is only the beginning. 
People joke that new technologies are always adopted by porn first, gambling second, and then the entertainment industry after.  These technologies have made their way to the NFL which means they are on their way to much broader adoption sooner than you might expect. 
We do live in exciting times!