Elon Musk is an interesting guy ... and SpaceX and his other projects are exciting companies that have the potential to 'leave a dent in the Universe.' But he is only one player in a surprisingly deep field. 
SpaceTech Analytics put out a great report on the overall landscape of the growing space industry including many infographics and benchmarks to help you chunk information and analyze it (as a relative layman).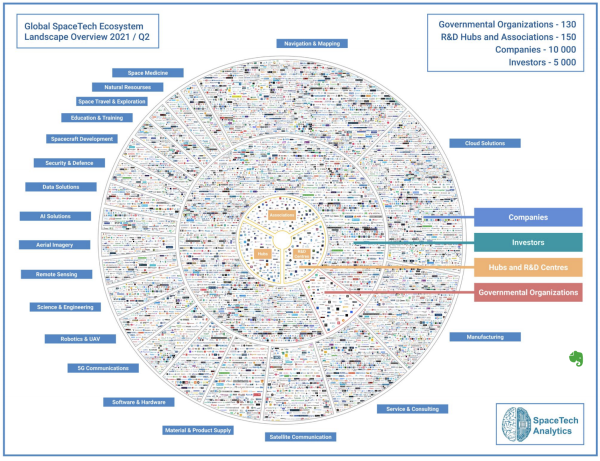 Here are some highlights of the reports if you don't want to spend the time:
There are over 10,000 space industry companies globally, and the U.S. has the most with 5,582 space-focused companies (which is almost 10x of the UK who is in second place) 
Money invested in the industry has passed $4 Trillion USD for the first time ever as a result of the increased competition and attention
Navigation/mapping, cloud solutions, and manufacturing are the biggest sectors by company density
And, orbital delivery for SpaceX's starship was approximately $500/kg compared to $20,000/kg on NASA's space shuttle in large part due to improvements in launch technology
It's fun to look at SpaceX, Virgin Galactic, or Blue Origin ... but it's encouraging to see so many meaningful players and projects. 
We take for granted the immense phase shift in technology. You have more computing power in your pocket than we first used to go to the moon. 
As humans, we're wired to think locally and linearly. We evolved to live our lives in small groups, to fear outsiders, and to stay in a general region until we die. We're not wired to think about the billions and billions of individuals on our planet, or the rate of technological growth - or the minuteness of that all with regard to the expanse of space.  
However, today's reality necessitates we think about the world, our impact, and what's now possible for us.
The space industry has a lot of potential to enhance the quality of life on earth, without expecting populations to leave the planet. 
Many of our greatest innovations came as a result of the pursuit of space travel. A recent example can be seen with SpaceX's Starlink striving to give people without access to stable internet a long-term solution. 
Space was a major inflection point for today's innovation, but now we can look toward A.I., new medical technologies, and so much more. 
It's hard to comprehend the scale of the universe and the scale of our potential ... but that's what makes it worth exploring!
Carl Sagan via  YouTube