Biden campaigned heavily on an economic plan centered around bolstering the middle class, taxing the wealthy, and investing in healthcare and green energy infrastructure. There are other aspects of his plan - but those were the focuses.   
Now that he's President and proposing his $4 Trillion economic plan, we can take a better look at where he intends to spend that money. 
The NY Times put together a data visualization to put the plan in context. 
Here's the simplified version: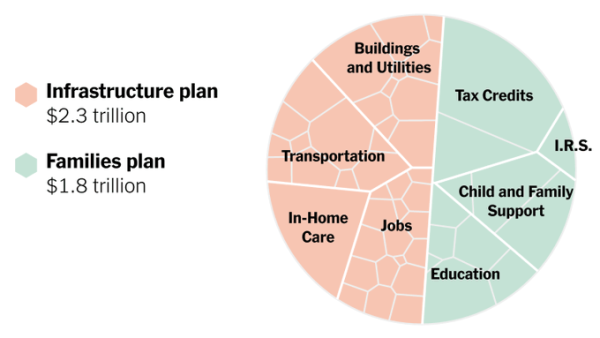 via NY Times
And here it is with more detail: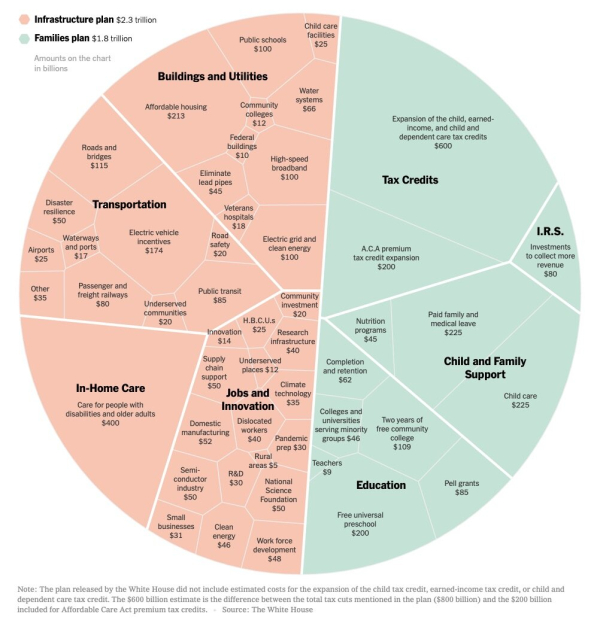 via NY Times
Much of the money President Biden intends on using to pay for this plan will come from higher taxes on the wealthy, and 15 years of higher taxes on corporations. With another portion of the money being invested in the IRS to crack down on tax evasion. 
Many people, both Republicans and Democrats alike, have fears about the new plan. 
Time will tell if the benefits outweigh the detriments, and what portion of his plan he actually accomplishes. 
Frankly, I'm not sure how much of what was talked about were trial balloons and negotiation anchor points or his intended outcomes?
Time will tell.  We sure do live in interesting times!