Early voting has started, but, if all goes to plan, we'll know who will be the President on November 3rd. 
The fears of fake news and the growing echo chambers around candidates (and policies) mean it can be tough to truly make an educated decision. The reality is, most of our news sources are tinted by the lens of their ideology - which is okay. That means they're appealing to their targeted audience. 
That being said, it may also be worth looking at the same news story from a comparative news source from the other spectrum - or even better, a primary source when it comes to science/economics. 
Here's a chart that shows where news sources rank. You can click the image to go to an interactive version with more details. And, if you're curious about their methods, click here.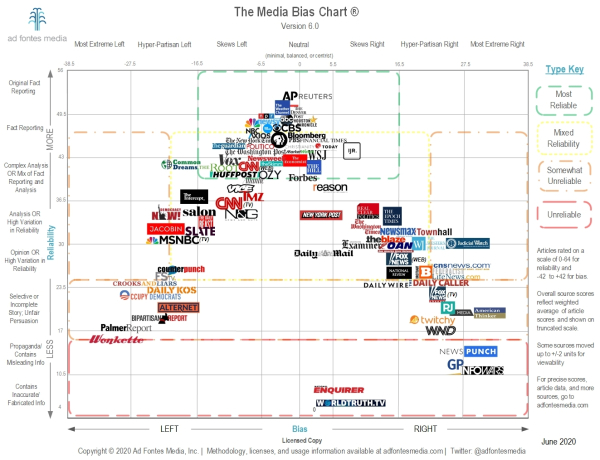 via Ad Fontes Media
On top of reading various news sources, there are a couple of other tools I like: 
As a last warning on believing anything you hear, most polls I've seen put Biden in the lead ... but if you remember 2016, you know the polls are working on incomplete information. Clinton had a lead on most polls and lost to President Trump. 
We live in interesting times!