Despite rolling re-openings, the economic effects of this "great lockdown" are still mounting. 
More than 36 million unemployment claims have been filed in the last two months - with 3 million coming last week. Over 14.7% of the population is unemployed.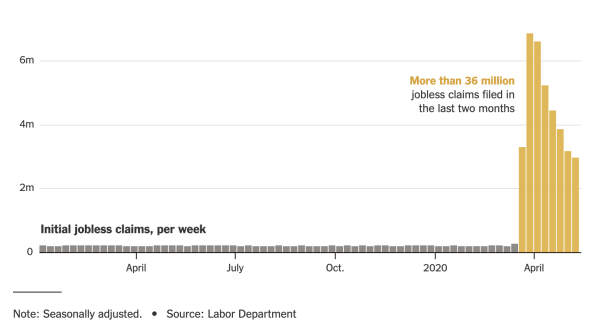 via NY Times
That being said, just like with COVID-19 cases, we're past the peak. 
Unfortunately, also like COVID-19 cases, the consequences are protracted, and we're unsure if any of our treatment plans are truly alleviating the problem. 
The speed of this shutdown and its impact on employment has been almost unprecedented.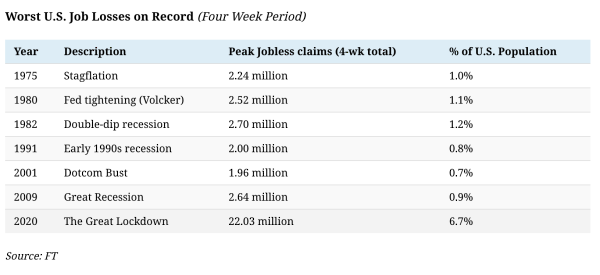 (April 17th, 2020) via visual capitalist
During the Great Depression, unemployment reached 24.9%, and there is no modern equivalent. Today, that would leave 41 million Americans out of work. But the short-term effects of this lockdown are significantly worse than anything in recent memory. 
Luckily, the current crisis is happening on a much faster scale than any of the previous examples. The aforementioned crises generally took several years to happen with unemployment peaking at the tail-end of the recessions. Perhaps we have already passed the peak in only two months?  Same story, different topic ... are the financial markets.  The hit was deeper and quicker than in previous crises, as long as you think the damage has already been done.
Due to this situation stemming from a global pandemic, which resulted in a forced lockdown ... there is an argument to be made for this not being a normal crash.  As a result, there's room for optimism (or skepticism).
Frankly, this is an unprecedented situation.  Governments have taken massive action.  We all know they don't do these types of things during good times.  The question is will it be enough, and if so, for how long? 
Also, actions have consequences.   If governments can really do this, and it works, then why wouldn't they continue?
I suspect because it doesn't really work ... or at least, too much of a good thing is bad for you too.
As normal economic activity resumes, I look forward to seeing how much of the damage is temporary. There are clearly industries that were hit hard - air travel, hotels, etc. - but almost all industries expect to see a rebound. 
Meanwhile, even though Georgia reopened, their initial jobless claims are still rising. Unemployment tracks the business cycle, so as businesses and spending ramp back up, the response should accelerate.  But, it's unclear when that will happen and how protracted the pain will be.
As a reminder, though the lockdown is ending, the economic effects will ripple for a long-time. The length of the ripples depends on our response. 
We live in interesting times!