Currently, the US has a stronghold on Data Science and Artificial Intelligence (collectively, "AI") innovations and advancements.
Meanwhile, China has been creating more papers than other countries about their AI advancements and innovation ... however, a closer examination of the research suggests that many of their papers are of low quality, misleading, or even fraudulent. 
Will China overtake the US in AI supremacy? If you look at their population along with their government's intent and directive towards AI leadership, it seems possible. 
via TheDataScientist
On a superficial level, I believe that the majority of advances in AI will prove to be beneficial – but there needs to be a balance between the promise and the peril of un-checked or un-regulated AI.  In other words, AI ethics, patriotism, and global balance of power considerations apply to a powerful force likely to terraform the planet.
Absolute power has been shown to corrupt ... I worry about the types of AI applications powerful nation-states will focus on, and whether they'll be truly forthcoming with breakthroughs or whether we are approaching a new cold war based around AI and Quantum Supremacy. 
When you're doing something new and groundbreaking, it's human nature to want to keep it to yourself. It seemingly protects your interests, it prevents competition, obstruction or poaching. As well, AI is going to create an enormous impact on economic development, the nature of work, and competitive dynamics, so many governments are rushing to establish interest, education programs, and AI frameworks within their borders.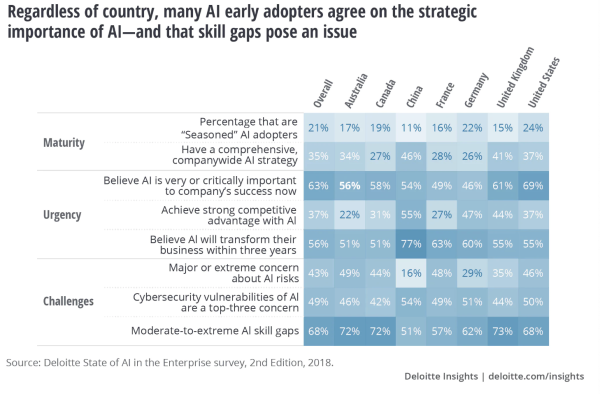 via Deloitte Insights
AI Isn't a Zero-Sum Game (Unlike Trading)
The reality is that AI has the chance not only to transform industries but societies as well. The benefits of properly executed AI are far-reaching and global. 
When you share, maybe not the individual application, but the over-arching lesson or breakthrough, you enable all adopters to learn and grow. 
Internally, in starting to write my book - Next on Wall Street - I spend a lot of time talking about our approach to building the right workforce, using the right data,  overcoming challenges, approaching AI from the right perspective, and, of course, using the right tools. 
Collaboration is an important engine for creation. Having a lead is important ... but at the beginning of a long journey, making progress and building momentum is crucially important.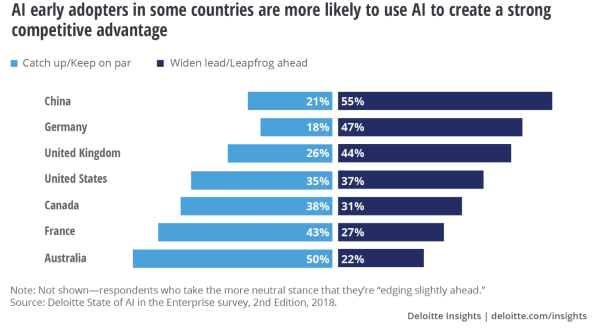 via Deloitte Insights
AI has a lot of green fields ahead. 
Onwards!