The Hype Cycle provides the raw material for some of my favorite posts every year.
In general, as technology advances, it is human nature to get excited about the possibilities and to get disappointed when those expectations aren't met. 
At its core, the Hype Cycle tells us where in the product's timeline we are, and how long it will take the technology to hit maturity. It attempts to tell us which technologies will survive the hype and have the potential to become a part of our daily life. 
Gartner's Hype Cycle Report is one of my favorites.  It is a considered analysis of market excitement, maturity, and the benefit of various technologies.  It aggregates data and distills more than 2,000 technologies into a succinct and contextually understandable snapshot of where various emerging technologies sit in their hype cycle.
Here are the five regions of Gartner's Hype Cycle framework:
Innovation Trigger (potential technology breakthrough kicks off),
Peak of Inflated Expectations (Success stories through early publicity),
Trough of Disillusionment (waning interest),
Slope of Enlightenment (2nd & 3rd generation products appear), and
Plateau of Productivity (Mainstream adoption starts). 
Understanding this hype cycle framework enables you to ask important questions like "How will these technologies impact my business?" and  "Which technologies can I trust to stay relevant in 5 years?"
Another methodology uses frequency analysis to identify the "most hyped" concepts and technologies.  
VisualCapitalist recently put together an infographic highlighting the most hyped technologies of each year. They call it the "Peak of Inflated Expectations".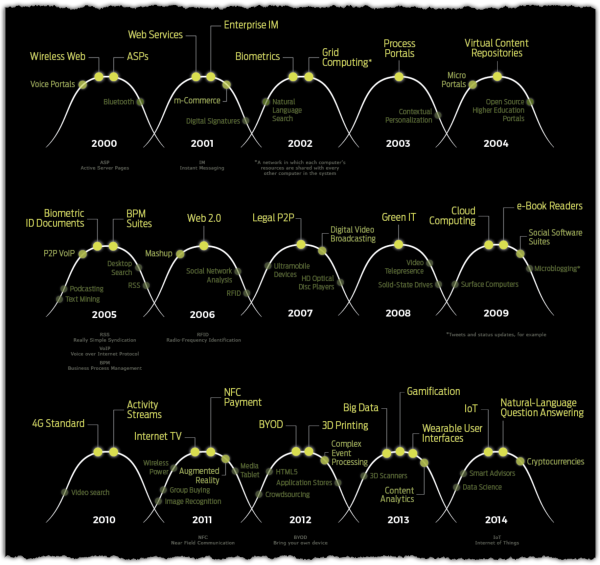 (Click To See Full Infographic) via VisualCapitalist
Here's a Summary of the most hyped technologies, by year, since 2000.
2000 - Wireless Web, ASPs, Bluetooth
2001 - Web Services, Enterprise IM, m-Commerce
2002 - Biometrics, Grid Computing
2003 - Process Portals
2004 - Micro Portals, Virtual Content Repositories
2005 - P2P VOIP, Biometric ID Documents, BPM Suites
2006 - Mashup, Web 2.0 
2007 - Legal P2P, Digital Video Broadcasting
2008 - Green IT
2009 - Cloud Computing, e-Book Readers, Social Software Suites
2010 - 4G Standard, Activity Streams
2011 - Internet TV, NFC Payment, Augmented Reality
2012 - BYOD, 3D Printing, Complex Event Processing
2013 - Big Data, Gamification, Wearable User Interfaces
2014 - IoT, Natural-Language Question Answering, Cryptocurrencies
2015 - Speech-To-Speech Translation, Advanced Analytics, Autonomous Vehicles
2016 - Blockchain, Cognitive Expert Advisors, Machine Learning
2017 - Virtual Assistants, Connected Home, Deep Learning
2018 - Biochips, Digital Twin, Deep Neural Networks
2019* - 5G, AI PaaS, Graph Analytics
*Missing from the infographic, but updated by Gartner
As we take our smartphones for granted, it's hard to imagine bluetooth, wireless web, or e-book readers as emerging technologies at this point - but at a time, the lightbulb was an emerging technology. 
It's also interesting to look at which technologies peaked in a hype cycle, or which now popular technologies don't show up on this list. Despite Virtual Reality being around since the 80's, I expected to see it on this list. 
Cryptocurrencies, "smart homes", and several older examples are fizzling or burnt out - but that doesn't mean they won't have resurgences. 
As a reminder, the hype cycle and the innovation/adoption cycle are often on very different time scales. It's very possible that technologies from the early 2000s may still have their heyday. 
What are you surprised wasn't on the list? And, what do you think is about to get added?