Population growth is an interesting measure. Historically, growth has been slow.  But something changed that.  And the implications are stunning.
Scientists estimate that humans have existed for over 130,000 years. It took until 1804 for us to reach 1 Billion. We doubled that population by 1927 (123 years later), and then doubled it again in only 47 years later (which was 1974). 
Early population growth was driven by the agricultural revolution. Since 1804, the industrial revolution, health and safety advances, and technology have radically improved quality of life - spurring comparatively rapid growth.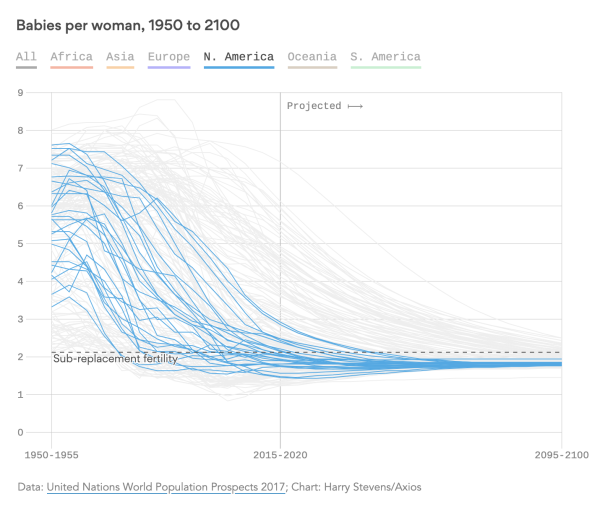 via Axios (Click for an Interactive Graph)
World population growth rates peaked in the late 1960s and have declined sharply in the past four decades, but we're still on a positive trend. We're expected to reach 9 billion people by 2050, but a lot of that growth comes from developing countries - they also almost exclusively come from urban areas. 
Urbanization: Megacities
Since 2014, over 50% of the world's population has lived in urban areas - today it's approximately 55%. That number is growing.
Ironically, as we grow more digitally connected, our world is shrinking and our populations are concentrating. 
An interesting consequence of this rapid urbanization and population growth in developing countries has been the increased development of Megacities - defined as cities with populations greater than 10 million. Today, there are 33 megacities - more than triple the number in the 1990s. 
This creates a set of interesting opportunities and challenges. 
For example, how will these cities deal with infrastructure - sanitation, transportation, etc.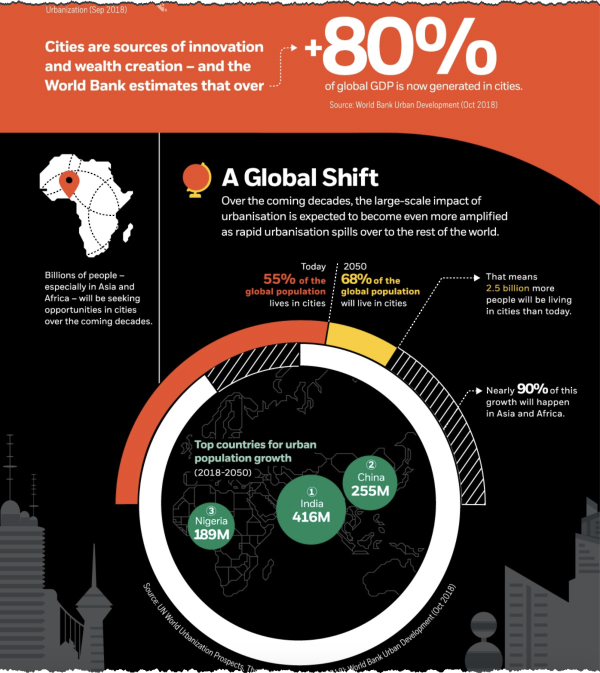 via Blackrock (Click to view full infographic)