Emerging markets have taken recent hits due to the trade war ... but that doesn't mean their long-term potential isn't monumental. 
According to Standard Chartered, by 2030, 7 of the 10 largest economies will be in emerging markets with India, Indonesia, Turkey, Brazil, and Egypt seeing exponential growth. Click to see the infographic and here's a video:
China and the US produce 23.2 trillion and 19.4 trillion respectively; unchallenged powerhouses now. That being said, the global balance of power and population is shifting; and many developing countries (like India) are growing quickly.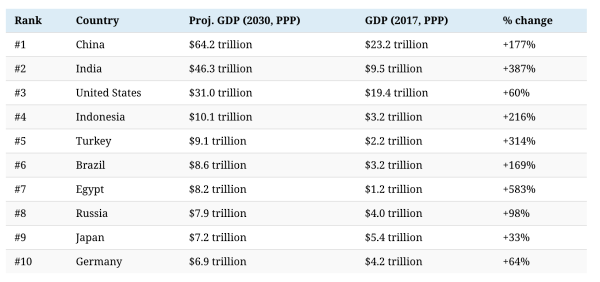 via Visual Capitalist
It seems likely that with their population growth and maturation as global economies, we'll see a relatively different landscape in 10 years. Will it look like this? Maybe?  But Egypt's projected growth of 583% seems a bit beyond normal expectations ... Time will tell!