What're everyone's two favorite things? Paying taxes and receiving robocalls, obviously. 
Phone scammers used to just target the elderly or those with poor English skills, but today, they go after everyone. In fact, Americans received over 30 billion robocalls last year ... and it's only getting worse. Around half of those are "legal," but more and more are scams.
Those scams increase during tax season. 
Several of my friends have received calls from the "IRS" demanding immediate payment. That is a scam. The IRS has stated repeatedly, they will not call you asking for your credit card numbers over the phone, they will not threaten lawsuits, and they will not call you unless they've already tried reaching you by mail. 
According to the FTC, robocall complaints in March and April are 20% higher. They're the icing on the tax season cake.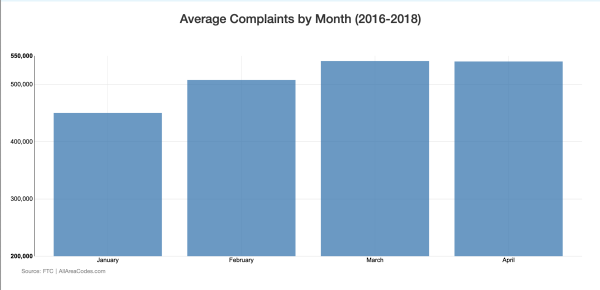 via allareacodes
If increased robocalls weren't enough, you can expect your refund to be 8% lower than last year. Though the average refund is still several thousand dollars, and my home state of Texas can expect the highest returns.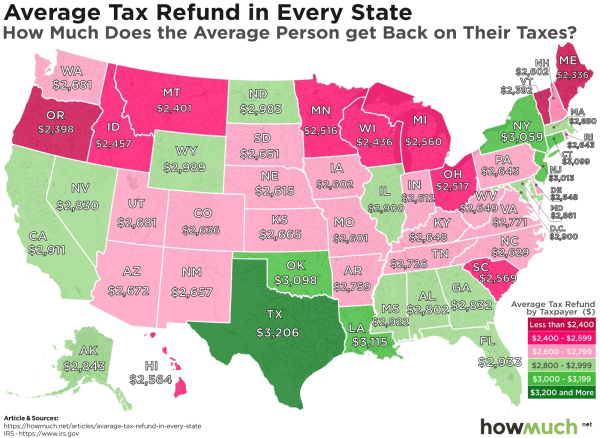 via HowMuch
Texas tops the list (Everything IS bigger in Texas) with $3,206 as the average tax refund. Maine inhabitants bottom out the list with $2,336.
It's worth mentioning that these refunds represent federal figures, and don't take into account any refunds from your state government - meaning there's likely more money flowing back to taxpayers than this map illustrates. 
What many people don't understand is that the size of your tax refund isn't solely based on tax cuts or raises.
Getting a refund feels like a win, but it represents an interest-free loan to the government for the last year. In an ideal world, you'd have a refund of $0 - meaning you paid exactly what you were supposed to.
Don't forget to file your taxes (Monday, April 15th is the deadline to file without an extension) and if you want to protect yourself from robocallers, here are some tips: 
Don't answer calls from unknown phone numbers - let them go to voicemail and call back if necessary
If you do accidentally answer a spam call, don't press any buttons or speak, as that simply alerts them that they've reached a working phone number
Don't call a scammer back, and don't engage with them ... it's like talking with cops, Anything you say can and will be used against you 
Check out CTIA's tip sheet on How to Stop Robocalls to see a list of apps available to prevent robocalls on your mobile OS