With all the "fake news" and manufactured social buzz, it's hard to identify what technologies are reaching maturity and which ones are fads. Gartner's Hype Cycle attempts to solve that problem. 
What's a "Hype Cycle"?
As technology advances, it is human nature to get excited about the possibilities and to get disappointed when those expectations aren't met. 
At its core, the Hype Cycle tells us where in the product's timeline we are, and how long it will take the technology to hit maturity. It tells us which will survive the hype have the potential to become a part of our daily life. 
Gartner's Hype Cycle Report is a considered analysis of market excitement, maturity, and the benefit of various technologies.  It aggregates data and distills more than 2,000 technologies into a succinct, contextually understandable, snapshot of where various emerging technologies sit on the hype cycle.
Here are the five regions of Gartner's Hype Cycle framework:
Innovation Trigger (potential technology breakthrough kicks off),
Peak of Inflated Expectations (Success stories through early publicity),
Trough of Disillusionment (waning interest),
Slope of Enlightenment (2nd & 3rd generation products appear), and
Plateau of Productivity (Mainstream adoption starts). 
Understanding this hype cycle framework enables you to ask important questions like "How will these technologies impact my business?" and  "Which technologies can I trust to stay relevant in 5 years?"
What's exciting this year? 
Currently, people are probably "too" excited about IoT platforms, Deep Learning, and Virtual Assistants. The idea isn't they won't stand the test of the time, but there's an artificial influx of people inflating the adoption numbers. Once the chaff is separated from the wheat - you can expect these to succeed. Autonomous driving, connected homes, and mixed reality have matured past the hype phase. 
For comparison, here's my article from last year, and here's my article from 2015. Click the chart below to see a larger version of this year's Hype Cycle.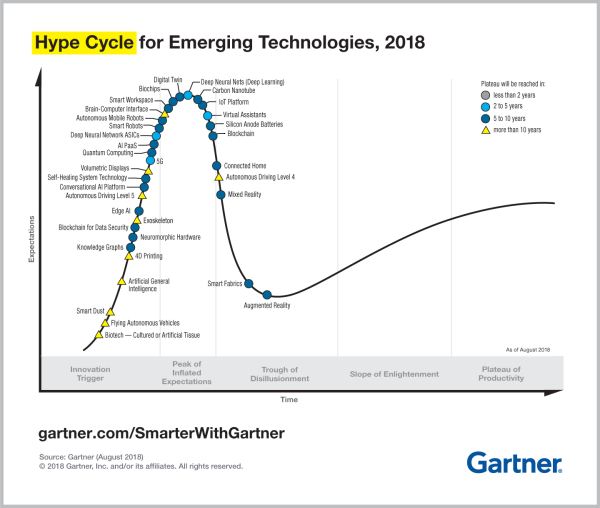 via Gartner
This year, Gartner organized the 17 highlighted technologies into 5 encompassing trends:
Democratized AI (autonomous driving, conversational AI, deep neural nets, etc.) is one of the most disruptive classes of technology. It's becoming more readily available due to open source and cloud computing. There's a burgeoning field of "makers" inspired to push the boundaries of what's possible.  
Digitalized Ecosystems ( blockchain, IoT) support emerging technologies by being the foundations for dynamic systems. There's a shift from discrete infrastructure systems to comprehensive ecosystems. Think of blockchains potential impact on tracking and communication.  
Do-It-Yourself Biohacking (biotech, biochips, exoskeletons, AR) is something I've talked about before. Dave Asprey is a public face of this movement and we shot a video together last year. The future is bringing implants to extend humans past their perceived limits and increase our understanding of our bodies; biochips with the potential to detect diseases, synthetic muscles, and neural implants. 
Transparently Immersive Experiences (connected home, smart dust, volumetric displays) represent the blending of where human stops, work starts, and things exist. Imagine a theoretical smart workspace where electronic whiteboards capture all your notes and disseminate them, sensors let you know where people are and what they're working on, and everything in your office interacts directly with your IT platform. This creates much more contextual and personalized experiences.  
Ubiquitous Infrastructure (5G, carbon nanotubes, quantum computing) means that infrastructure is becoming a less competitive advantage. As infrastructure becomes cheaper, more ubiquitous, and faster, it becomes background noise.  
Looking at the overarching trends of this year, it's also fun to look at what technologies are just starting their hype cycle. 
Which technologies do you think will survive the hype?