I think it's clear that Fintech is getting a lot of attention from the press, investors, and talent.  It is a hot space!
Here is a chart showing the Fintech companies that got the most funding recently.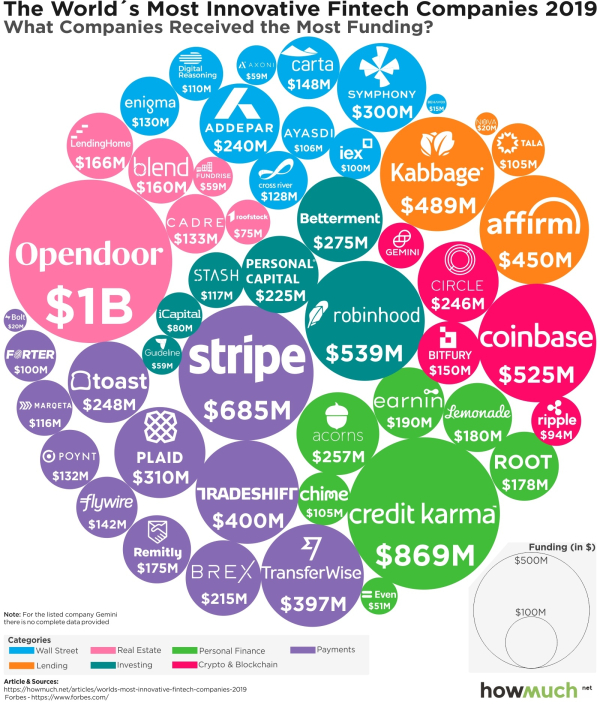 via howmuch
Rapidly maturing sectors are payment processing, personal finance, and blockchain/crypto.
Personal Finance - This is a broad market, but we're seeing the "average joe" empowered to make smarter personal finance decisions with companies like Robinhood, Acorns, and Credit Karma. Credit Karma raised $869M and is valued at approximately $4B
These are the sectors getting the most Fintech funding now (with payment processing the clear leader).
In my opinion, real disruption is brewing in the personal finance & Wall Street sectors ... and funding is ramping up there as we speak.
This Fintech sector reminds me of biotech.   Solutions have to be more mature and fully-tested before unleashing them on the public.  But winners will Win!
Wall Street is one of the smaller sections in this infographic.  Nonetheless, I think you'll be reading a lot more about this space soon.  Here are some of the companies worth noting.
Symphony  does secure communications for companies like JP Morgan and Goldman Sachs. It helps with internal communication, and client-centric communication, and has various bots and apps to decrease decision time. 
Addepar claims to "power the global financial system".  It's a performance reporting platform meant to provide better insights, and connect assets to goals. 
Carta does equity management; helping private & public companies manage their cap tables, investments, and equity plans. 
Not seen on these lists are all the smaller companies at the beginning of their innovation cycle, and the companies doing their best to stay under the radar. More competitors and more opportunities mean more reason to keep your cards close to your chest. 
The funding cycle is always two steps behind the innovation cycle, which means ideas we've been hearing about from the likes of Gartner will be seeing increased publicity soon. 
I think 2019  will be a great year for innovation. What about you?