I originally talked about ChatGPT in mid-December.  Since then, it's been all my entrepreneurial friends can talk about.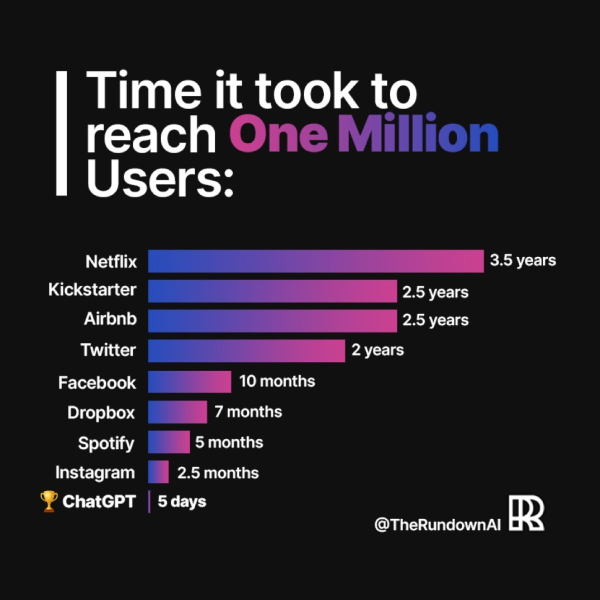 via TheRundownAI.
The speed of adoption is unrivaled, and it's a sign of bigger things to come. 
Unfortunately, not all news around ChatGPT has been positive.  Microsoft released a version of Bing powered by ChatGPT, and it has been a mess. Bing's chatbot has threatened its users, it claimed to be watching its developers through their cameras, and much more. 
Despite that, ChatGPT and many other new tools are being used to great effect.  For example, this episode of a Conan talk show was generated entirely by AI - the words, the voices, the video - all using AI.  Click to watch how it turned out.
via No Reruns
I was part of a panel on ChatGPT and the state of AI last week.  As you might guess, a large part of the conversation focused on how businesses could use these new and innovative tools.  It's no secret that the list of potential applications is extensive.  For example, I now use ChatGPT and Type.AI to help edit articles.
While they provide both context and content for the articles, their text tends to be "fluffier" than I prefer. It can be reminiscent of someone trying to sound smarter than they actually are. Instead of taking something complex and making it simple, it takes one good idea and hides it in some circuitous logic and language. After I clean it up, I'm usually happier with the article as a result.  
However, I think about valuing AI's uses in a similar way that I value discounts.  When you come across a deal in a store that makes you think, "Wow, I need this"... It's not really saving you money if you weren't planning to purchase the item in the first place.  It's an additional cost.
If you're tempted to start using new tools just because they're exciting, realize that they are likely to be a distraction that could end up hurting your productivity.
Tools like ChatGPT can be used to great effect if they assist you in doing things you need (or want) to be done.  In that case, they can help you create a bigger future with what becomes possible.
When used correctly, automation and innovation can help improve efficiency, effectiveness, and the certainty that you achieve desired outcomes.  Meanwhile, they don't charge you an hourly wage, they won't get sassy when you tell them all the things they messed up, and they're ready to work at all hours of the day. 
Here are three concepts to consider. 
AI can help you create a bigger future … but you have to know where you want to go (because activity isn't progress if it isn't taking you toward your destination).

If you're afraid of Artificial Intelligence, you're not listening.  AI will inevitably become more powerful and widely used.  Look to how it can help you get what you want rather than focusing on how to avoid the peril or feeling bad that other people use it better or more than you do.

If in doubt, begin.  The 25-year journey starts with a single step.
Hope that helps.