Elon Musk wiped $14 billion dollars (9.5%) off Tesla's value with one tweet. 
He went on a Twitter tirade focused on the unfairness of COVID-19 lockdowns, on selling all of his personal possessions, and singing the Star-Spangled Banner. 
The tweet that took the cake was "Tesla stock price is too high imo" (in my opinion).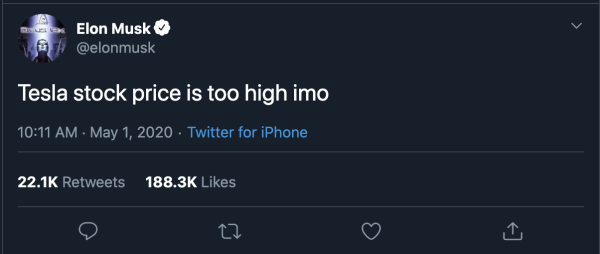 via Elon Musk
Musk also announced that he and his girlfriend, Grimes (who is a musician), are scheduled to have their baby on Monday.
Back to business ... remember that Musk has run afoul of the SEC for tweeting about Tesla shares in 2018, when he tweeted about potentially taking Tesla private. That is was recently settled. As part of that, Musk agreed to a pre-approval process for tweets that included public statements that could move Tesla's stock price. 
Perhaps he forgot? 
Sometimes, less is more!