Streaming services were big winners during the pandemic.  While that wasn't surprising, their subscriber growth and usage surge are impressive.
VisualCapitalist put together an infographic highlighting the numbers.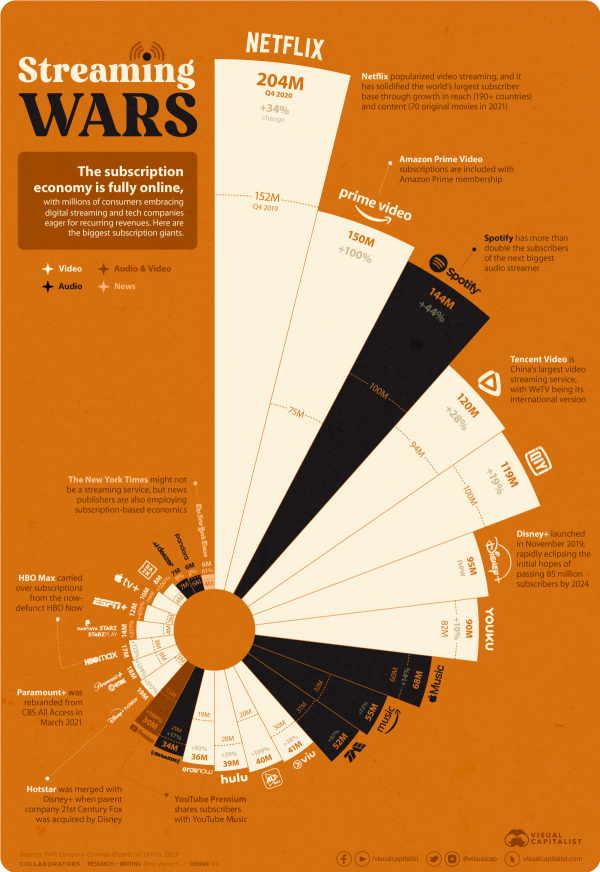 via VisualCapitalist
I enjoyed the chart, and had a couple of different takeaways: 
Many companies tried to capitalize on the streaming wave by launching half-baked streaming services, but it's clear that the pioneers are still extending their lead on the fast followers. 
Despite Netflix already being the industry leader, they saw a 34% increase in 2020. 
China's largest provider - Tencent Video - only has 120M users, which is about 8% of China's population. In contrast, Netflix has 74M US users, which is about 23% of the population. 
The New York times is the only News subscription source big enough to make the list, yet it's at the very bottom with 6M users. Though, it did see a 61% increase in 2020. 
Disney+ grew 95M in its inaugural year, which is a credit to the brand recognition Disney holds.
Interesting stuff and large numbers!
How will the world re-opening impact those numbers?  How about 5 years from now? What do you think?
Will virtual reality and augmented reality start to impact these numbers?
With that much money and on the line, I expect this to remain an industry segment primed for innovation, growth ... and a few surprises.