I have a picture in my conference room that says energy might be the most important thing to measure.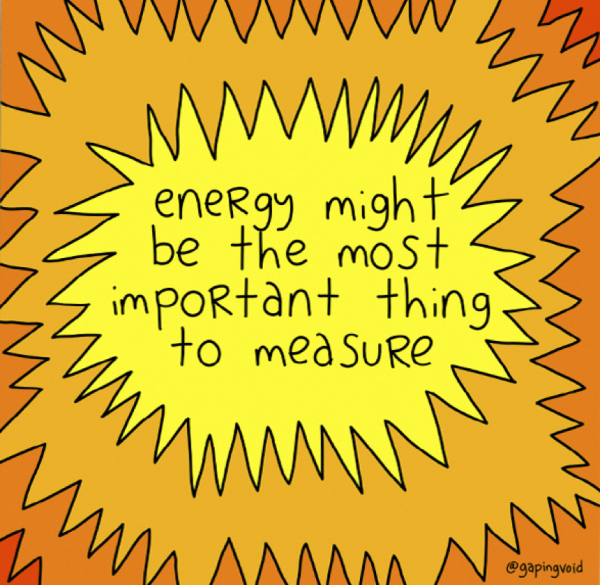 via GapingVoid
It means exactly what it sounds like - but also a lot more. 
We use A.I. to trade.  So, measuring performance is important.  But, so are all sorts of production, efficiency, and effectiveness measures. 
While there are hundreds of important metrics we track day-to-day, energy affects everything. 
Energy affects how you feel, what you do, and what you make it mean.  That means it is a great way to measure your values too.
Consequently, even if you don't recognize it, energy has a lot to do with who you hire and fire. It affects where you spend our time. Ultimately, it even affects the long-term vision of our company.
If something brings profit and energy, it is probably worth pursuing. 
In contrast, one of the quickest ways to burn out is by fighting your energy.  Figuring out who and what to say "no" to is an important way to make sure you stay on path and reach your goals.
At a recent Genius Network event, I shared a mindset scorecard I created during one of their exercises.  I hope it helps!
Normally, Genius Network is private, and these recordings are for internal use only; but I asked permission to share my impromptu session with you. 
Check it out. In the first 5 minutes, I will introduce the scorecard. For the next 10 minutes, you'll get an extra look at the resulting group discussion. 
I use this tool to diagnose where we are during meetings, while ranking opportunities, and even for HR and partnership decisions.
Think of each comparison as a spectrum. They're not necessarily "one-or-the-other", but they can help identify where you are on the scale of "what to avoid" versus "what you want".
Blaming <-----> Encouraging
Insistent <-----> Inspirational
Fearful <-----> Abundant
Steadfast <-----> Curious
Clogging <-----> Cleansing
Resentful <-----> Grateful
Zero-Sum <-----> Relational
Small-Minded <-----> Visionary
These words mean something to me, but they may need tooling to work in your company. Changing the names, the order of the comparisons, the number of comparisons, etc. can have a profound effect on the usefulness of this scorecard to you. 
I encourage you to think about how you could use this scorecard, and how you can bring attention to those people and actions that best embody the traits that are vital to your business.