Serena Williams officially retired on Friday after a loss in the third round of the US Open to 29-year-old Ajla Tomljanovic. Serena won her first Grand Slam Title 23 years ago in the same stadium. 
Serena started playing professional tennis in 1995 as a 14-year-old.  Twenty-seven years later, she walks away from the game with 858 tour victories, an 85% win rate, 73 singles titles, an Olympic gold medal, and 319 weeks at No. 1. With her sister, Venus, they won 14 major doubles titles and three Olympic gold medals.
Recently, I shared this graph that helps put the Williams sisters' dominance into perspective.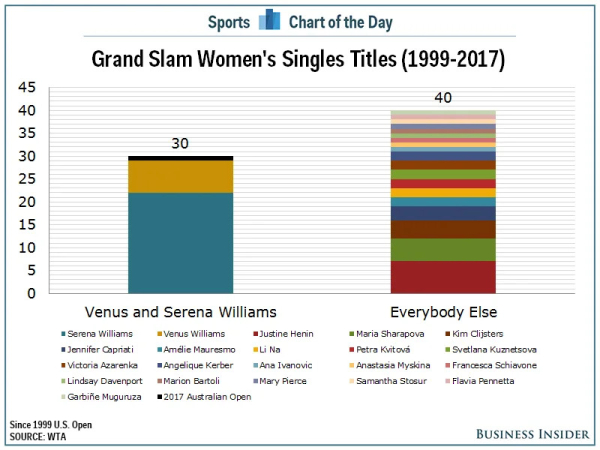 via Yahoo!Sports
Serena is undoubtedly one of the most dominant athletes - man or woman - in any sport. 
To be great requires an extraordinary level of grit, determination, and pain tolerance over an extended period of time.  It isn't just what you choose to do from moment to moment – it's about a persistent commitment to who you choose to be!  
During Serena's final match, an ESPN commentator said something interesting about what makes her (and many famous athletes) great.  For context, Serena was down 5-1 in the final set of the final match, with her opponent having won two sets already.  It's 'game point'.   To get here, Ajla will win a point, then Serena - it goes back and forth like that more than seven times.  Yet, Serena keeps finding a way to keep herself in the match despite everything going against her. 
While this is going on, the commentator exclaims, "How can she care so much?  How can she keep dancing on the lip of the volcano?" 
Imagine being in Serena's position.  She's 40, she's announced her retirement, the match has been going on for almost 3 hours, and her chances of coming back are almost nil ... she has nothing left to prove ... but she keeps finding more in the tank.  She keeps putting herself in a position to turn it around.  After the match, her opponent makes clear that she never once thought that Serena was out of it - that she couldn't turn it around and clinch victory. 
It was beautiful - and it was a testament to the passion and discipline it takes to be that elite for that long. 
There's a difference between good and great - but there's also a difference between great and the greatest.