America is big and pretty heavily populated.  Surprisingly, 28% of the land is owned by the government (check out this YouTube video). 
As you might guess, the eastern US holds almost no federal land while the Western US has states that are primarily federal land (Nevada is 84.9% federal land). 
Bloomberg had an interesting series of infographics that covered America's land use and relative profitability.
To start, can you guess what takes up the most space ... 
Cows. 
Over 41% of the land in the contiguous US revolves around livestock and livestock feed. The farmland used to feed us is an afterthought in comparison - it makes sense when people talk about cows' environmental effect.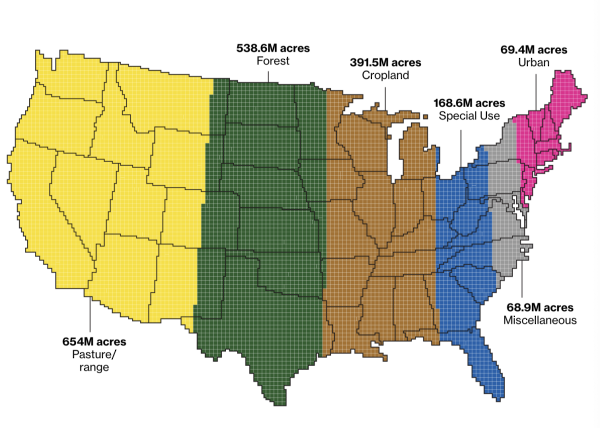 Dave Merrill and Lauren Leatherby via Bloomberg
Urban areas make up only 3.6% of land use - but four out of five Americans live there (and this area accounts for about 40% of GDP). 
The map below gives us a rough idea of the split of U.S. land.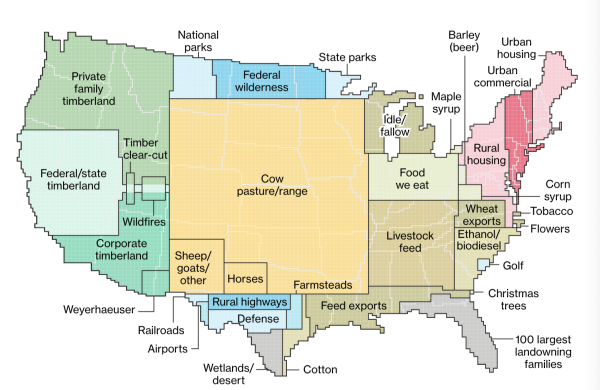 Dave Merrill and Lauren Leatherby via Bloomberg
Urban growth is outpacing other categories, but we're also doing a good job of repairing forestland.  According to The Land Report magazine, the land owned by the top landowning families has grown to be larger than Florida - and is continuing to grow. 
There are a couple extrapolations that you can make from this information - but I'm curious  ... what do you take from this?