Is it safe to get back in the Market?
Research published by
Yale Hirsch
in the
Trader's Almanac
shows that the market year is often broken into two six-month seasonality periods.
From May 1 through October 31 seasonality is unfavorable, and the market most often finishes lower than it was at the beginning of the period.
The period from November 1 through April 30 is seasonally favorable, and the market most often finishes the period higher.
Here is a recent chart showing the returns, for the past 20 years, of this Halloween through April bullish seasonality idea.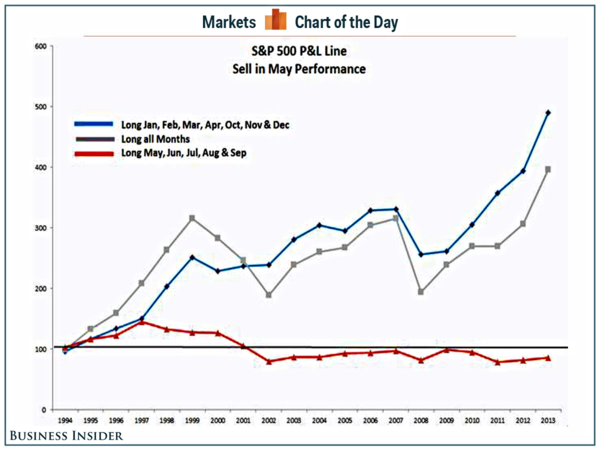 Superficially, it seems to work.
While the statistical average results for these two periods are quite compelling, trying to ride the market in real-time in hopes of capturing these results is not always as easy as it sounds.
Assume that bull and bear market pressures tend to override
seasonal tendencies
. 
In addition, it's also pretty safe to assume that there are no guarantees in trading.  That means that every year is different and presents its own challenges.
As we approach May, traders get wary.  That doesn't mean they sell.  Instead, they acknowledge that, historically,  a volatile, sideways-moving market is likely ... and they prepare accordingly.
Nonetheless, price is your primary indicator and it makes sense to follow the primary trend.