Technology is on the mind of most people I have talked to recently. Even with Big Tech letting go of droves of employees, the innovation happening in the world is impressive. 
VisualCapitalist put out a list of 11 trends to look out for this year. Check it out.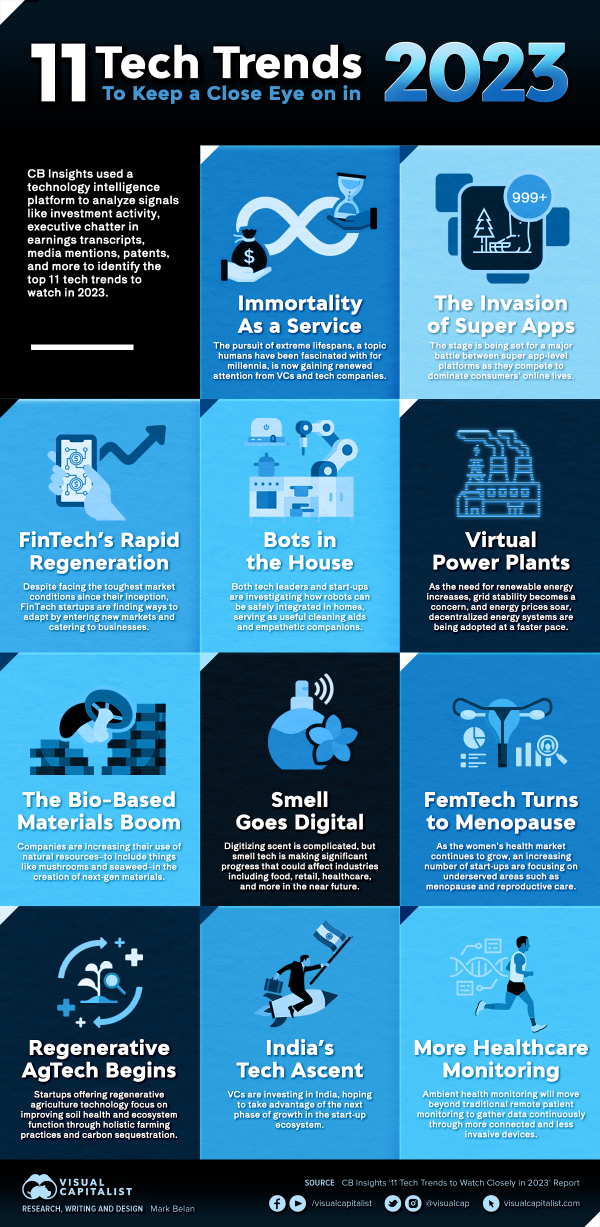 via visualcapitalist
As always, no list gets it entirely correct. Lists like this are made to spark interest and influence the direction of tech development. However, I've been impressed with what visualcapitalist has gotten right in the past. 
A lot of the trends on the list make sense. India has been a massive investment space in tech over the last few years, and it's about time for more results to show. Healthcare is a massive investment space, and we're seeing a lot of innovation go to the medical space before migrating to other industries ... on top of health monitoring, other specifics like menopausal care could see more investment, especially with an increase in women-led and women-focused companies. 
As well, Fintech has been hit hard since 2020. Many of the bulwarks of the industry have been sliced down as a result of covid-19, market turmoil, the Russia/Ukraine conflict, and more. These years haven't been without learnings. New market conditions require new approaches, but the past 2+ years have been a great opportunity for adaptation and advancement. After winter comes spring. 
What trends do you think are missing, and what trends do you think won't come to fruition?