Last year was the worst year for the U.S. stock market since the 2008 financial crisis. 
Of course, even in a down year, some things do well. Trading is a zero-sum game. If some people lose money, others make it. 
Visualcapitalist put together a great visualization of the winners and losers of 2022.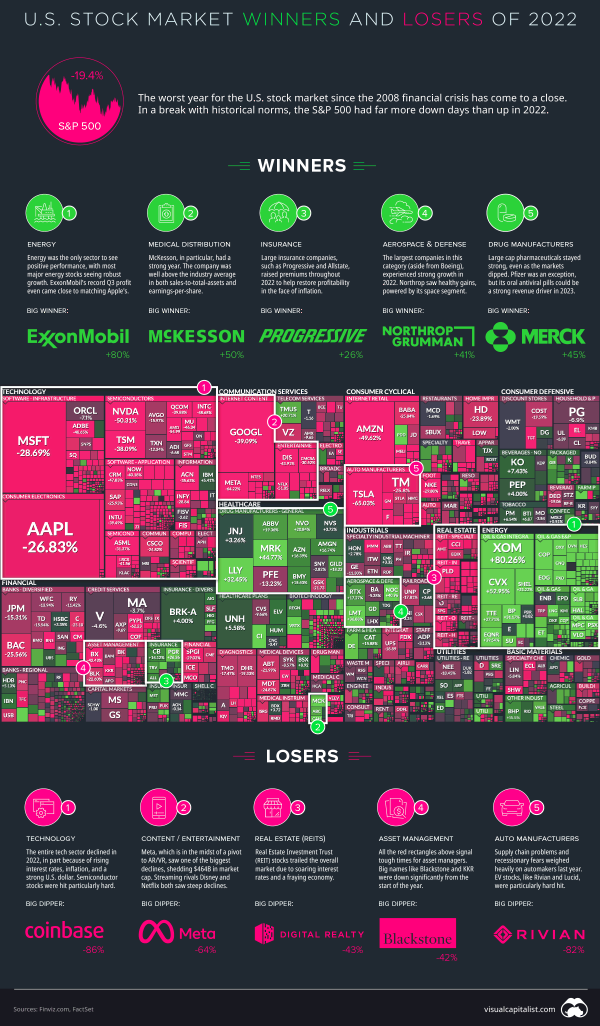 Click to see full size via visualcapitalist
It's very easy to see what sector won in 2022 ... Energy. While the Fed raised interest rates seven times, Russia invaded Ukraine, and the supply chain continued to struggle, Energy still saw a massive boon. 
Perhaps unsurprisingly, several healthcare companies did well - specifically larger pharma companies. 
On the other side of the balance, tech stocks languished in 2022. Across the board, the largest tech companies lost 20% and more. Real estate also suffered heavily with high-interest rates, uncertainty in the marketplace, and a generation of workers who are unsure if they'll ever own a home. 
Do you think these trends will continue or reverse in 2023? History says "no" ... but time will tell!