In 2021, the Big Five – Alphabet (Google), Amazon, Apple, Meta (Facebook), and Microsoft - generated over $1.4 trillion in revenue.
How did they generate that revenue? We know they sell products ... but we also know that we're often the product they sell. 
Google and Facebook each make a lot of money selling you (or data about you) to advertisers. 
The image below shows how Alphabet generated its revenue.   The full infographic shows that breakdown for each of the Big Five.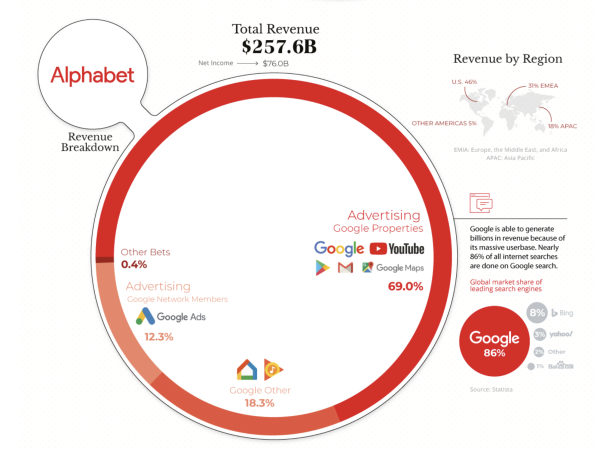 Click to view the other companies via visualcapitalist
Apple, Amazon, and Microsoft, primarily sell products (like more traditional businesses). On the other hand, almost 98% of Meta's revenue (and 81% of Google's revenue) comes from advertising. 
Unsurprisingly, all five companies saw significant growth during the pandemic. 
Though the economy shrank in the past two years, societal changes continued to push demand for big tech's products and services. 
Will growth continue or slow down? 
I'm curious what you think.