As I get older, time seems to move faster ... but it's also true that as I get older, more is accomplished every minute. 
Technology is a powerful force function. In fact, the amount of data in the digital universe effectively doubles every two years. 
Every couple of years, I revisit a chart about how much data is generated every minute on the internet.  
In reverse chronological order, here's 2018, 2015, and 2011. 
Here's an excerpt from 2015 for some perspective: 
Compared to 2008 here is what's happened with social networks:

The number of people online has more than doubled from 1.4 billion to over 3 billion (2021 #: 5.2 billion) 
Facebook has gone from 80 million users to more than 1.4 billion (2021 #: 2.89 billion
Twitter had 2 million accounts and now it is 300 million and counting. (2021 #: 206 million ACTIVE users after a big bot deletion)
The number of smartphones was 250 million in 2008 and today there are more than 2 billion. That is an 800% increase! (2021 #: 6.37 billion)

Today this is what happens every minute on the web.

4 million search queries on Google
Facebook users share 2.46 million pieces of content
Email users send 204 million messages
Throughout its (pretty short) history, the internet has been arguably the most important battlefield for relevancy and innovation. 
So, what does the internet look like in 2021?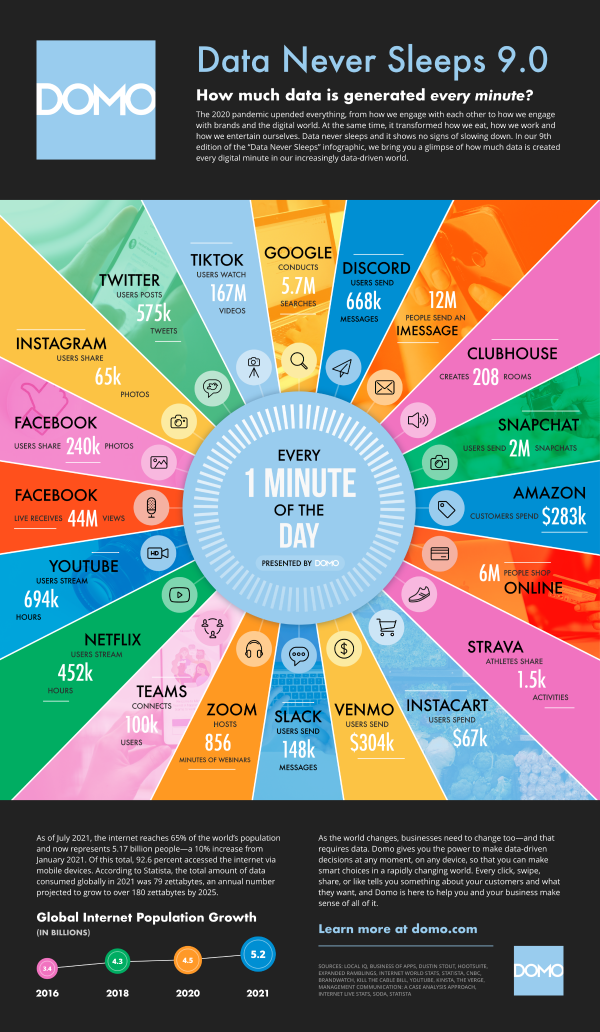 DOMO via visualcapitalist 
Looking at the list, we see new editions like Clubhouse and Strava. Partially due to the quarantine, you're still seeing an increase in digital cash transfers with tools like Venmo, an increase in e-commerce shops like Shopify, and an increase in (you guessed it) collaboration tools like Zoom or Microsoft Teams. 
Just to pick out some of the key figures in the chart this year. 
Amazon users spend $283,000
6M people shop online
TikTok users watch 167M videos
and, Zoom hosts 856 minutes of webinars. 
Before 2020, I already thought that big tech had a massive influence on our lives. Yet, somehow this past year has pushed their impact even higher. 
One other thing this chart also helps put into perspective is the rapid rate of adoption. As you look at different year's charts, you can see how quickly apps have become part of the cultural zeitgeist. 
How do you think these numbers will grow or change in 2022?