On the 7th, it was announced that Elon Musk's wealth passed Jeff Bezos's $185 Billion net worth to become the wealthiest person in the world. This is driven by Musk's many companies - SpaceX, The Boring Company, OpenAi, Neuralink, and of course, Tesla.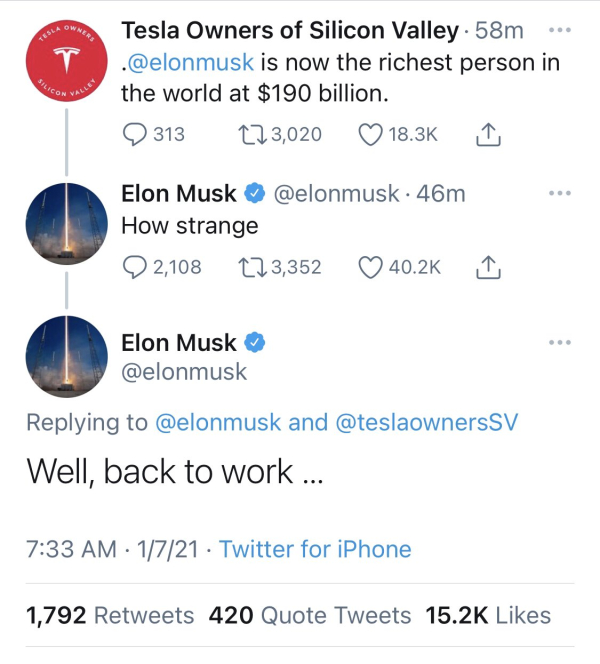 That valuation comes after Tesla's market value passed $700 Billion for the first time. His company is worth more than Toyota, Volkswagen, Hyundai, GM, and Ford combined (despite not having nearly the distribution) based on Market Capitalization.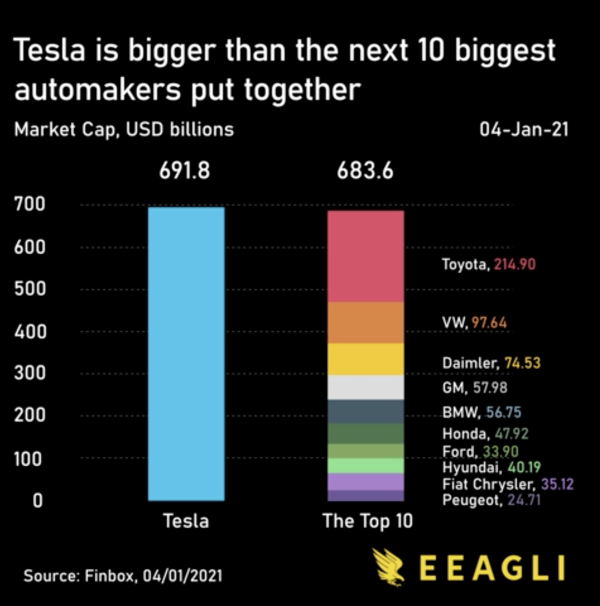 via EEAGLI
NIO, BYD, and Xpeng should be on the list, but their market cap has increased so rapidly it seems the list used missed it. 
With Tesla's almost meteoric rise, it raises the question of whether the value is based on the ongoing global expansion, or speculation driven primarily by traders believing other traders want it as well.  To put it in perspective, Tesla's revenue has been rising 50% a year, which is impressive, but the stock has increased 800% in a year. Its P/E ratio is over 1400. As well, Tesla's revenue is less than a tenth of many of the companies on this list - and many of the companies are launching their own electric vehicles. 
To better compare the companies, a much better test is enterprise value which takes into consideration the company's debt obligations.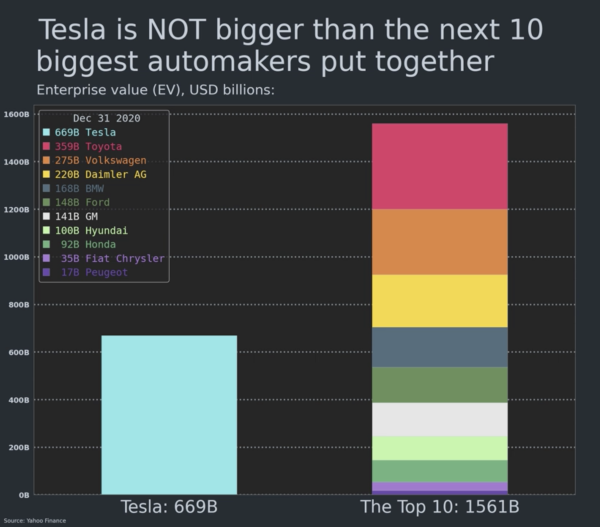 via Radiatin
This shows that Tesla is still very impressive - just slightly less impressive than the markets would have you believe. They have clearly taken on less debt than many of those companies, and their market cap likely helps them take on cheaper loans when they do pursue more debt. 
I have a lot of faith in the future of Tesla as a company - but as a reminder, at the height of the 1990s tech bubble, Yahoo was worth more than all of the newspaper companies in the US. Toyota alone brings in 10x the revenue that Tesla currently does, and manufactures 25x as many cars. 
Regardless - congratulations to Musk for the achievement. If you were curious how he intends to use his "newfound" wealth, Musk is committed to using his money for two major goals 1) Sustainable energy and 2) extending life/consciousness beyond Earth. 
I guess you have to shoot for the stars ... or at least planets.