The pandemic has affected many things beyond basic health. Increasingly, I see research showing meaningful increases in pornography consumption, suicide rates, and a host of other trends that are shaping our world today ... but, in the longer-term, it is also affecting the face of tomorrow. 
Flexible Workplaces
In May, after only several months of lock-down, I was surprised how many businesses decided that they had no intention of ever requiring their employees to come back into the office. 
As we close in on a year in the pandemic, I am surprised how easily we adapted to the new normal.  Even with a vaccine in sight, I suspect many of the adaptations will remain.
Personally, I like going to the office.  Most days, I still do ... even though a tiny fraction of our people are there.
With that said, I know that our business matured.  We are better at the skills, tools, and mindsets that make remote work possible or profitable. We've gotten better at deciding what's a meeting (versus an e-mail or an online chat). People are working hours that are more comfortable for them, and we see meetings happen both earlier and later than they used to, before the quarantine. 
As a macro trend, we also see a flight from urban centers.

via visualcapitalist
I keep hearing about people moving far from their work-places.  Ultimately, they decided that remote work enables a new form of freedom for them – to live where they want, regardless of what they do (or who they do it for).
Over time, I'm curious how a remote workforce will impact the quality and the amount of work done. 
Adding to my initial concerns, flexible workspaces cause (or exacerbate) other issues, including cybersecurity, digital collaboration, defining the new workday, and a host of other challenges. 
Digital Explosion
I remember the early 2000s and the distress I felt watching how many time cycles my son "wasted" being on his phone (which to me, at that time, seemed like "all-the-time"). But, in retrospect, that was nothing. 
Flash forward to 2019, and everything was even more "digital" and "smart."  Refrigerators, exercise bikes, billboards, and more all had screens, and 2-year-olds were already digitally literate. "All-the-time" took on a whole new meaning.
Somehow, the pandemic still took our reliance on the digital world (or our augmented alternate reality) to the next level.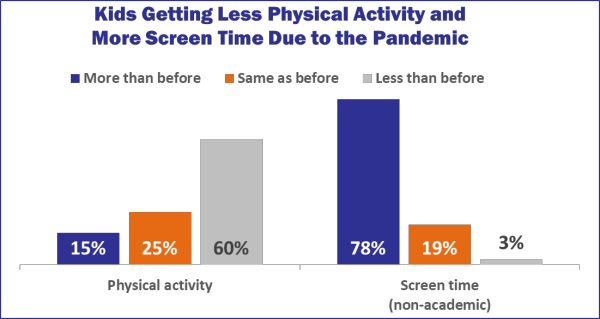 via Alaska DHSS
Kids are also getting less physical activity and human contact, and spending much more time online.  Contributing to this is the reality that much of their academics have been forced online.  Likewise, adults also are shifting more of their attention and activity cycles to the digital world.
Continued screen-time increases coincide with video game revenue spiking and Internet traffic increasing by more than 50% worldwide. 
As the world opens up, I still expect digital reliance numbers to stay above pre-COVID benchmarks. People's reliance on digital to feed their need for information, entertainment, and companionship is growing.
Changing Business Landscape
Starting with consumers, we've seen a massive movement toward frictionless and touchless payment. Even physical stores are prioritizing getting in and out without having to deal with another human. In addition, there's a massive move toward delivery services for groceries and meals. 
On top of the changes to normal retail services, reliance on online shopping has increased, while the time it takes for electronic purchases to your door has decreased. Combined, these factors will terraform commerce.  Consequently, this year was likely an inflection point for e-commerce penetration ... and, from that perspective, life will never be the same again.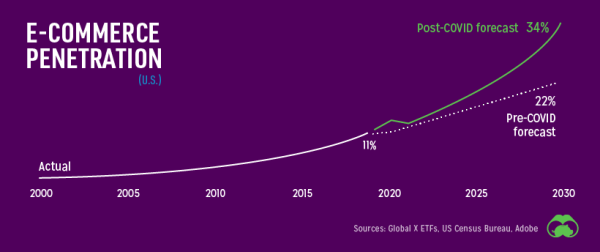 via visual capitalist
Despite the growth of online retail, many small businesses that couldn't move online are struggling, and many have already gone under. 
Which leads to the next trend ...
Increasing Wealth Stratification
While small business owners and front line workers have been struggling, billionaires saw their wealth increase by over half a trillion dollars. 
Part of this is due to government aid toward large companies, part of it is due to tax laws, and part of it is due to the digital rise mentioned in the previous section. The big tech companies were already thriving, and the pandemic created a positive inflection point. 
Despite those gains, the pandemic hit millennials and small businesses hard.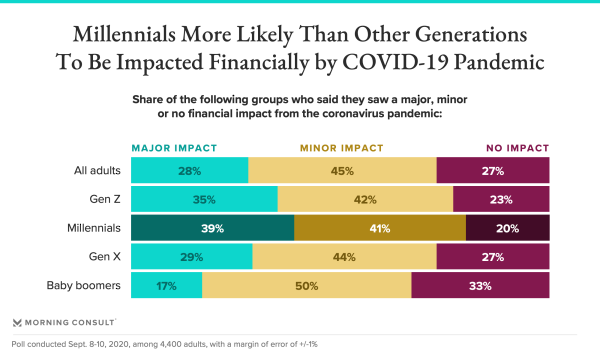 via Morning Consult
The longer the economy is affected by COVID-19 measures, the larger the wealth inequality will grow, and the more people you can expect looking for government assistance. The strong will thrive while others will suffer increasingly from learned helplessness.
Obviously, the 2020 quarantine has created impacts in many other areas – including family stress, community isolation, political radicalization, etc. Moreover, these effects won't be isolated to this year - and we should expect many to impact our "new normal" for years to come.
Some people consider this a challenge. I think it's the playing field. It's going to be true for everyone. What you make it mean, and what you choose to do, it is up to you.  Some will be like a cork, floating on the water, going where the tide takes it. Others will recognize the situation as an opportunity and thrive.
The impact has been global, but the choices you make are local ... and they are still your to make.
Here is to making 2021 our best year yet!
Onwards!