In a time of unrest, partisan politics, and situational anxiety ... it is important to remember how much we share (as opposed to what separates us).
VisualCapitalist put together a great graphic on the top 56 values that drive human behavior. For the top 15, it also shows you where they rank based on country. 
Family
Relationships
Financial Security
Belonging
Community
Personal Growth
Loyalty
Religion/Spirituality
Employment Security
Personal Responsibility
Basic Needs
Harmony
Health/Well-Being
Experiences
Respect
Each individual's ranking of the 56 (15 shown above)  may be different, nevertheless, this chart helps highlight what is really important to us all. 
Click the image to see the full infographic.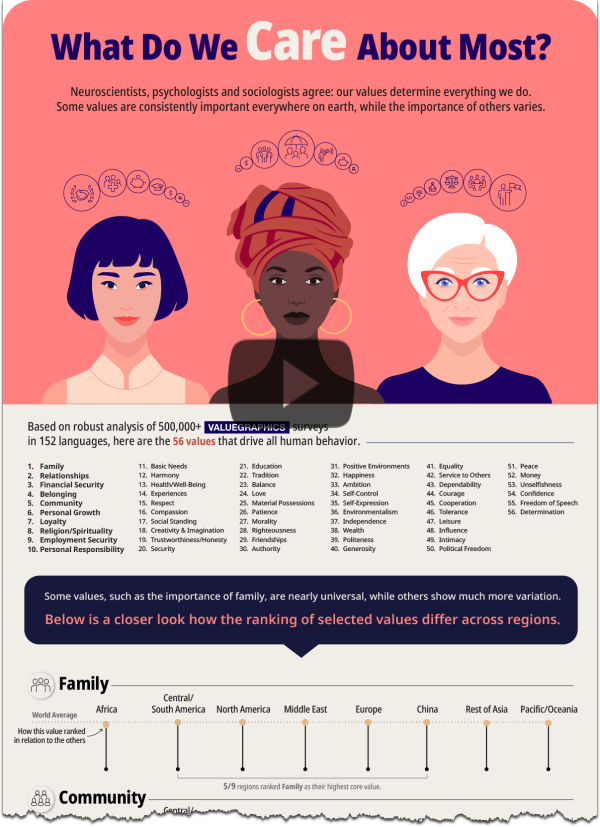 via VisualCapitalist
The ranking of the values changes across cultures and nations, but family emerged as the most important value consistently, and other "connectedness" values consistently ranked high. 
Humans are emotional creatures (with the ability to think) rather than thinking beings (with the ability to feel).  Ultimately, we are social creatures in a social society. From a Maslow's Hierarchy of Needs standpoint, security often comes first, but connection comes right after that. 
It's easy to focus on our differences, but it's more important to find the common ground. That's where discussion and progress happen. 
Onwards!