Home fitness isn't a new trend, but we've come a long way from the Aerobics videos of my youth ...
The technology of home workouts has also improved a lot, even before COVID-19 put it into overdrive. 
From YouTube channels with any type of workout you could look for, to simple machines for any type of workout you're looking for. 
I've shared articles before about some of my favorite tools
So, how has the quarantine affected the industry?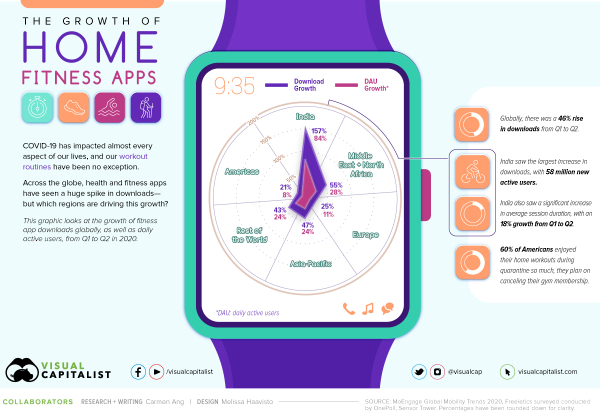 via VisualCapitalist
Worldwide, health & fitness app downloads have grown by 46%. With a mass majority of that being in India. On top of downloads, daily active users have also increased by 24% worldwide. 
Is Home Fitness Here to Stay?
Health & fitness apps have been a big part of my arsenal, far before social distancing was a thing, and they'll continue to be an important part of my future fitness plans. 
Many people prefer the gym/class environment for workouts, so home workouts will never represent a major proportion of the market, but it's non-trivial and continues to grow. 
More likely to continue to grow in use are the tracking and mindfulness apps. 
I like several guided meditation apps.
In addition, I like these too.
I also recommend:
For fitness tracking, I use: 
Let me know if there is something that I should add to the list.