How much Coronavirus information can everyone take?
Everywhere I look, the current crisis seems to be affecting everything.
It has certainly impacted what we post – here are two recent examples: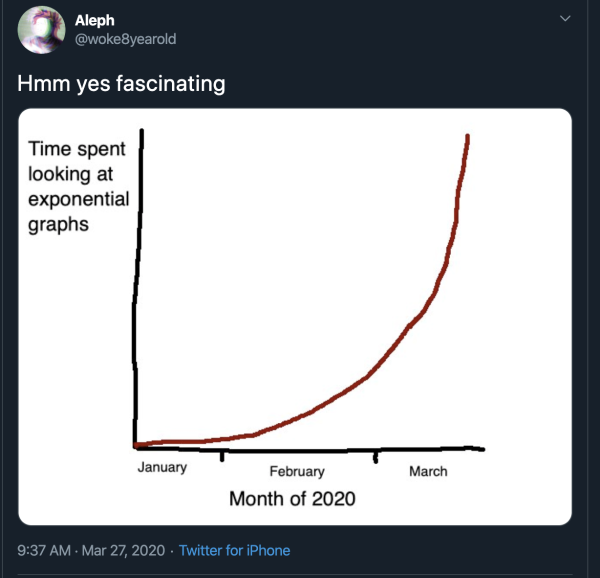 via Twitter
Meanwhile, I am beginning to think about how we are going back to business as usual. 
Just last week, 3.3 million applied for unemployment and companies have been freaking out. If my own social network is any indication, most people are finally taking it seriously and isolating. If you take my son's social network as any indication, some are still partying on beaches and boats without a care in the world.  As a reminder, flattening the infection curve greatly impacts our ability to treat COVID-19. 
I am by no means an expert, but I know many of you are curious about the Coronavirus relief package that passed the Senate on Wednesday, and the House on Friday. It's the third package from Congress so far. Based on your background and your personal beliefs, you'll likely have varying opinions on the package, but overall, I believe this is at least a "passable" effort for most audiences. And (watching the struggle to reignite the stock market) it is likely very much needed. 
As a final note, the goal is not to "fix" the Stock Market, or stimulate the economy (exactly), it's to rescue the economy. It's a relief package. The goal is to prevent the collapse of the economy due to stagnation and unemployment. 
So what does the CARES ACT package entail for you:
Self-employed people (that includes artists, musicians, and solopreneurs)  are now able to apply for unemployment benefits up to their full salary. Unemployment is receiving a $260 billion stimulus. 
Small businesses will have enhanced access to federal loan dollars to help keep people on the payroll. If no one is laid off, the loans will be forgiven. If you're looking for capital to cover retaining employees, that's called the Paycheck Protection Program. There is also the Emergency Economic Injury Grant and Small Business Debt Relief Program.
There are many industry-specific bailouts, including for airlines and more to prevent them from failing
President Trump and Congress members are forbidden from using funds from this package to save their businesses. 
Most adults can expect a one-time payment of $1200 and each child can expect $500. Single-filers above $75K will receive a reduced amount, and single-filers above $99K can't expect anything. If you don't have a social security number, you can't receive a payment. 
Joint-filers above $150K can expect reduced payments, and joint-filers above $198K can expect nothing
You have until July 15th to fill out your tax returns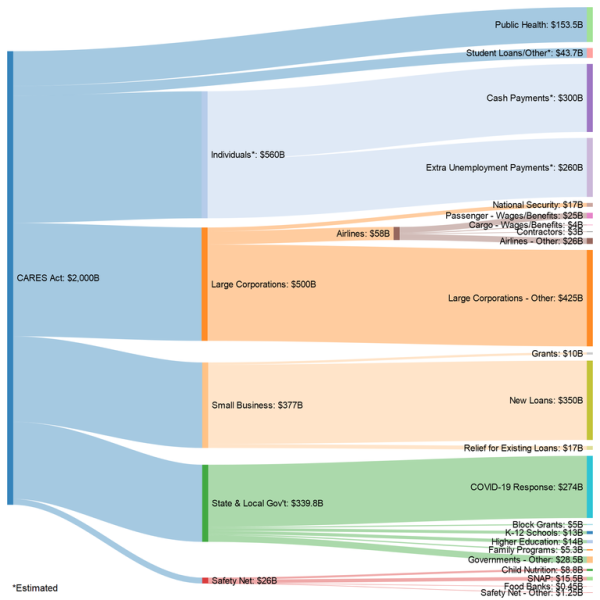 SevenandForty via r/DataIsBeautiful 
There's a lot involved with the package that I didn't cover, but I covered most of what influences the average person. Big corporations, hospitals, and public health, and many government programs also receive various levels of benefits. 
For a comprehensive look at the bill, NPR did a very good write-up. You can read it here. Verne Harnish and Scaling Up did a good write-up as well. You can read it here. 
As a small business owner, in the midst of this pandemic, I'm not thinking about what's necessary to continue doing what I was doing yesterday. I'm focused on what I can do to prepare for tomorrow. Things won't go back to the way they were, but they will go back to normal. Only, it will be a new normal. It's a good lesson in being attached to a result, not a medium for a result. 
Hope this helped.