Kylie Jenner was recently named the world's youngest "self-made" billionaire by Forbes. 
There was a lot of controversy over the title "self'-made" ... Regardless, her accomplishments are impressive. Jenner is an example of a different form of intelligence and hard work (and the power of the Kardashian media empire).
Clearly, Americans are fascinated with the idea of billionaires as an extension of the American dream.
Here's the world's "official" richest people.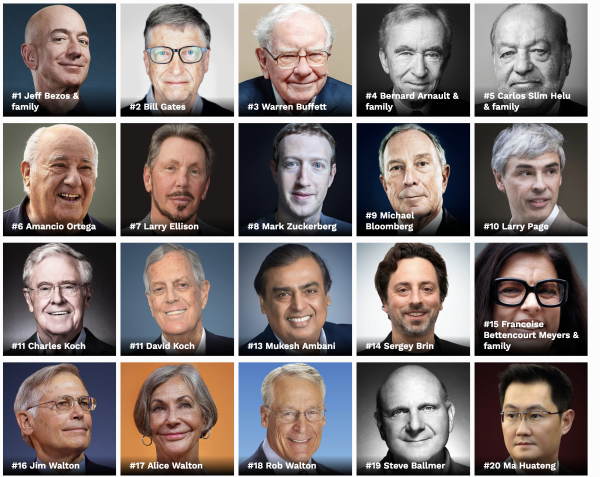 via Forbes
The actual data is interesting. The US has about doubled in Billionaires since 200.  Meanwhile, China has grown from 1 Forbes list billionaire to over 300. In that same time, the US GDP grew from approximately 10.5 trillion  USD to 21.5 trillion, and China's GDP went from about 1.3 trillion USD to over 13 trillion. 
Global GDP has increased by 2.5x since 2001.  Consequently, most people in the world are richer than they were back then. 
How many billionaires are there ... and how many in America? Forbes has an interactive chart to answer those and many more questions.,  Click the chart below to see the data.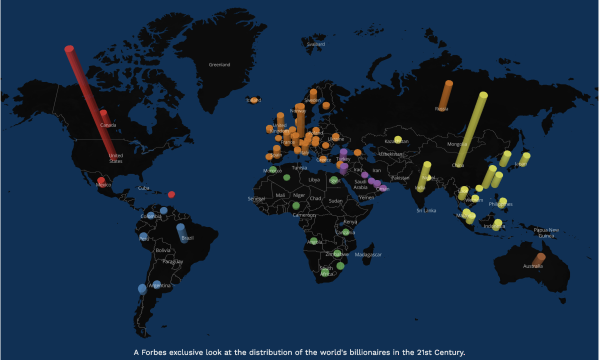 via Forbes
The issue with this chart - and any chart on this subject -  is that the data is incomplete and suspect for a variety of reasons.  For example, think about the assumptions made on the amount of money tied up in a variety of assets like private companies, art, and real estate. 
In addition, there are many billionaires who don't want to be tracked. For example, the list only shows  Saudi Arabia having 20 billionaires.  Likewise, it is estimated that India has over $500 billion in undocumented wealth (with some estimates putting it as high as  $1.5 trillion.)
Not a bad list to be on!