I'm regularly surprised by the levels of innovation and strategic thinking that I see in football.
I've written posts about how much regular businesses could learn from watching football teams. That post talks about how even high school teams have a position-by-position depth chart. They have a game plan for their next opponent. They practice plays on both offense and defense. They watch game film of their past games and future opponents. And, they coach the team as a team, and the players individually. 
Often, simple ideas, applied consistently, are enough to win.
Last night I was at a Dallas Cowboys playoff game (note that is not an oxymoron) ... and I took a picture with this guy.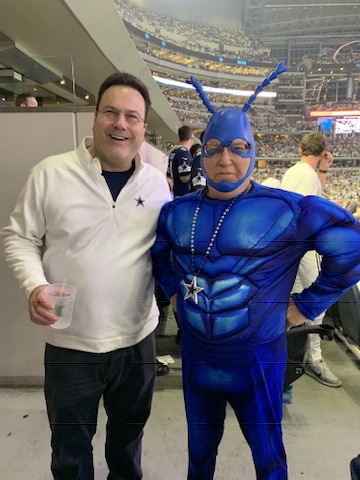 I see him at every game ... and every game he wears a different creative and well-thought-out costume. He sits on the 50-yard line, He wears Ferragamo shoes and a nice watch. Yet, something about this game captures his imagination.
Yesterday, I also had the honor of meeting Gil Brandt at the game. For those of you not familiar with him, he was the vice president of player personnel (or Chief Scout) of the Dallas from 1960 to 1989.  He helped Dallas grow into one of the most powerful and popular sports franchises in America. His innovative management and personnel systems are standard operating procedure today for many teams at the professional and collegiate levels nationwide.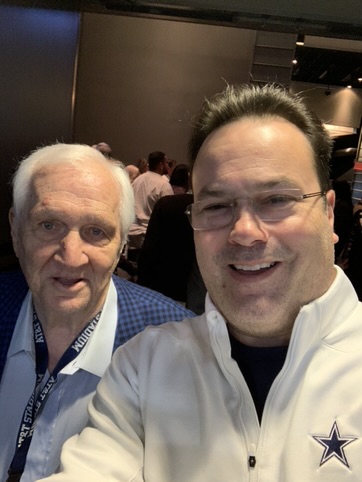 Many consider him the architect of the Dallas Cowboys. I'm not talking about the stadium or headquarters, I'm talking about their teams and ideas that were the catalyst to "America's Team".  I took this from his Wikipedia page.
He helped pioneer many of the scouting techniques used by NFL clubs today,[2] such as:
Creating a new scouting and evaluation system for prospects, which would later spread throughout the NFL. In the NFL Films' documentary series Finding Giants, Ernie Accorsi mentioned how then-general manager George Young built the New York Giants scouting process based on the Cowboys system.[3]
Using computers for scouting and talent evaluations. To achieve this level of automatization, the Cowboys had to systematically define which were the traits, measurable qualities and skills that could be expressed into numbers and formulas in order for a computer to understand them.[4]
Finding potential prospects in other sports such as: Bob Hayes, Cornell Green, Peter Gent, Toni Fritsch, Percy Howard, Ken Johnson, Ron Howard, Wade Manning, Manny Hendrix and Mac Percival. The Cowboys also set up hospitality suites for coaches at the NCAA basketball tournaments.[5]
Brandt was one of the first talent scouts to look outside of the United States and Canada for potential players. Kicker Toni Fritsch was discovered during a European tour.[6]
Made unconventional draft choices in lower rounds based on potential, even though at the time it wasn't known if the players would ever be a part of the National Football League. For example: Roger Staubach, Herschel Walker and Chad Hennings.
The use of psychology tests to identify the mental and personality make-up of prospects.[7]
Finding players in the undrafted free agent and small college talent pool, such as Drew Pearson, Cliff Harris, and Everson Walls.[8]
Helped to create the NFL Scouting Combine as a centralization of the scouting evaluation process.
Gil Brandt is one step closer to joining the NFL's ultimate pantheon – The Pro Football Hall of Fame.  He has been nominated as a contributor finalist for the Class of 2019. The contributor category recognizes "individuals who made outstanding contributions to professional football in capacities other than playing or coaching."
He's an inspiration. Not only did he innovate how teams draft and measure talent ... he's the guy who figured out how to make cheerleaders an iconic symbol of a team and the game itself.