"The Internet is becoming the town square for the global village of tomorrow." - Bill Gates


In our everyday lives, a minute doesn't seem like much. When looking at our population and their internet usage, that minute goes a lot further. 
In 2015, I wrote an article on this exact subject. It's interesting to see the difference between 2008 and 2015, and 2015 to today.  Here's an excerpt:
To put some perspective on this explosion of content and web traffic here are the facts on the growth of content and the internet.

Compared to 2008 here is what's happened with social networks:
The number of people online has more than doubled from 1.4 billion to over 3 billion

Facebook has gone from 80 million users to more than 1.4 billion

Twitter had 2 million accounts and now it is 300 million and counting.

The number of smartphones was 250 million in 2008 and today there are more than 2 billion. That is an 800% increase!
Let's compare that to 2018.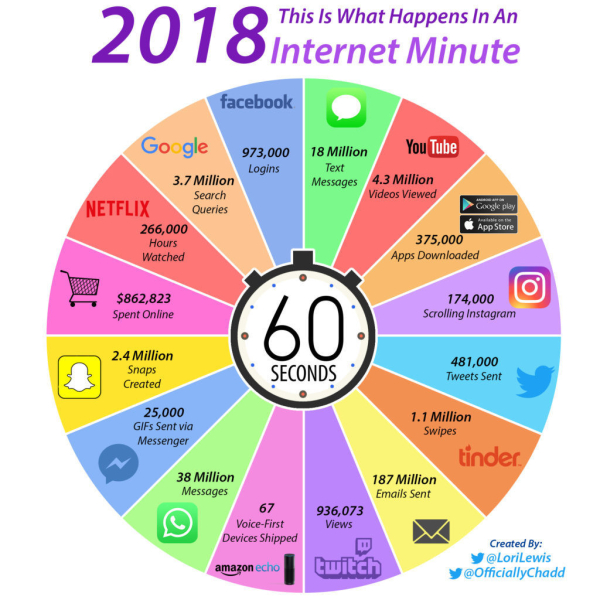 Cumulus Media via World Economic Forum
Today, there's an expected 4,156,932,140 people online and over 2,500,000,000 smartphone users. 
Not as big a shift as 2008 - 2015, but still impressive. 266,000 hours of Netflix is an impossible to fathom number - even in a minute scale. 
I'm curious to see what changes as our digital landscape continues to develop.